News
Zelenskyy accuses Russia of war crimes
Macron speaks in Bucha of "strong evidence of war crimes".
French President Emmanuel Macron said Monday there was "strong evidence" that Russia was responsible for the killings of civilians in Bucha, adding that it was "strong evidence of war crimes".
In an interview with Radio France Inter, Macron also called for another round of punitive sanctions against the Kremlin.
Macron said on Twitter on Sunday that the images coming out of Bucha were "intolerable". Russian forces have withdrawn from the war-torn city, leaving a mass of what appears to be civilian deaths.
Macron faces re-election this month.
UN human rights chief "horrified" by Bucha images
The United Nations Human Rights Commissioner said it was "appalled" by images allegedly showing the bodies of civilians killed by Russian forces in the city of Bucha, near Kyiv, according to Ukrainian officials.
"Reports from this and other areas raise serious and worrying questions about possible war crimes, as well as serious violations of international humanitarian law and gross violations of international human rights law," UN High Commissioner for Human Rights Michelle Bachelet said in a statement Monday.
The UN human rights chief said it was important that all bodies be exhumed and identified so victims' families could be informed and the exact cause of death could be determined.
She said it is "vital that every effort is made to ensure there are independent and effective investigations into what happened in Bucha to ensure truth, justice and accountability, and redress and remedy for the victims and their families. "
Russia has dismissed Ukraine's claims that hundreds of civilians have been killed by its forces in Bucha.
Russia's chief investigator orders an investigation into Ukraine's Bucha allegations
Russia's chief investigator has ordered an official probe into Ukraine's allegations that Russian forces have killed hundreds of civilians in the city of Bucha, near Kyiv.
In a statement Monday, Russia's investigative committee said it was looking into Ukraine's claims, as well as images shared by Ukrainian officials, aimed at "discrediting Russian military personnel."
Russia has denied claims that its forces killed civilians in Bucha, although photos and videos appeared to show dead bodies on the city's streets as its troops pulled out of Bucha and other towns near Kyiv. She has branded Ukraine's claims a "provocation". NBC News has not been able to independently verify the photos.
Dmitry Polyanskiy, Deputy Ambassador of Russia to the United Nations, said in a tweet Sunday that Russia would also request a UN Security Council meeting over what he called a "vile provocation."
British Foreign Secretary's visit to Poland calls for tougher sanctions on Russia
British Foreign Secretary Liz Truss will visit Poland on Monday to call for tougher sanctions against Russia, her office said, while major Western countries work together to increase pressure on President Vladimir Putin to end the conflict in Ukraine.
"Putin has yet to show that he is serious about diplomacy. A tough approach by the UK and our allies is crucial to strengthen Ukraine's negotiating position," she said.
"Britain has helped cripple the Putin war machine with sanctions. We will do more to increase pressure on Russia and we will continue to urge others to do more."
Truss will meet Ukrainian Foreign Minister Dmytro Kuleba in Warsaw, Poland, on Monday, and her Polish counterpart Zbigniew Rau on Tuesday.
Britain, a former member of the European Union, has coordinated with international allies to impose sanctions on key Russian industries and Moscow's wealthy elites in a bid to cripple its economy in response to Russia's invasion of Ukraine.
Zelenskyy says new sanctions are not "enough" after accusing Russia of atrocities in Bucha
Ukrainian President Volodymyr Zelenskyy has called on the international community to take stronger action to pressure Russia to end its invasion after grisly images allegedly showing civilians killed emerged from the town of Bucha near Kyiv.
In a speech on Sunday, Zelenskyy said fresh sanctions from the West would not be "sufficient" to respond to the atrocities reportedly being committed in Bucha by Ukrainian officials.
"There will definitely be a new package of sanctions against Russia," he said. "But I'm sure that's not enough. We need more conclusions. Not only about Russia, but also about the political behavior that actually made it possible for this evil to come to our country."
Russia has denied Ukraine's allegations that its forces left hundreds dead in Bucha. It has denied all claims of targeting civilians in Ukraine since it launched its invasion in late February.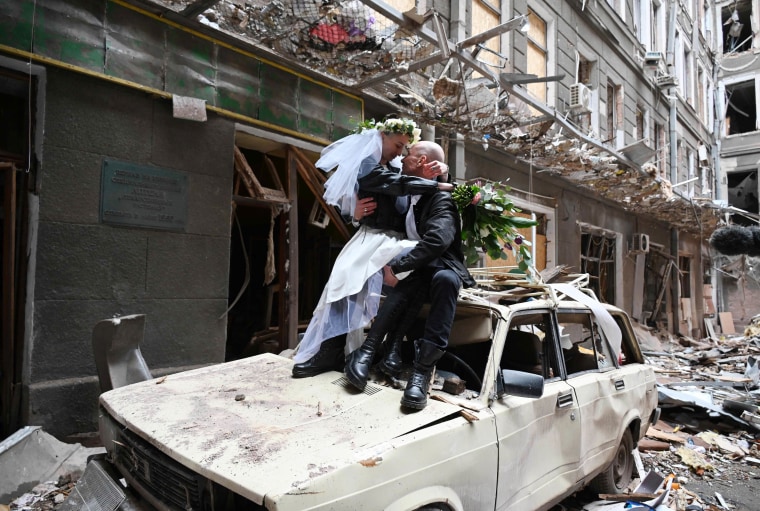 Russia denies Bucha massacre, claims photos were 'staged'
The Kremlin has reaffirmed its rejection of Ukraine's allegations that Russian forces killed hundreds of civilians in the city of Bucha, near Kyiv.
On Monday, Kremlin spokesman Dmitry Peskov said Russia "categorically denies any allegations" and said Ukraine's claims "must be seriously challenged," Russia's state news agency TASS reported.
Meanwhile, Russian Foreign Minister Sergei Lavrov called photos allegedly showing the bodies of civilians on Bucha's streets "staged".
Russia has consistently denied attacking civilians since it began its invasion of Ukraine. It was unclear how the development could affect peace talks between the two countries.
Hungary's uncompromising leader declares election victory as war rages in neighboring Ukraine
Viktor Orbán claimed victory in Hungary's general election on Sunday as his Fidesz party appears on track to appoint the prime minister for a fourth straight year amid a raging war in neighboring Ukraine.
A win would allow Orbán to continue to be a thorn in the side of the European Union and NATO alliances at a time of international crisis as he seeks to reconcile Hungary's western partnerships with his close personal and economic relationship with Russian President Vladimir Putin bring to.
Read the whole story here.
Opening of humanitarian corridor expected in Mariupol
A humanitarian corridor from the besieged port city of Mariupol to Zaporizhia is due to open on Monday, Ukrainian Deputy Prime Minister Iryna Vereshchuk said.
in one video address Vereshchuk said on Telegram on Monday that the corridor is intended for private vehicles. She said that 15 buses bound for Mariupol have already left Zaporizhia.
Meanwhile, evacuation efforts continue in the Luhansk region, she said, including from the cities of Sievierodonetsk, Lysychansk, Popasna, Nyzhne and Rubizhne.
Ukraine accuses Russia of massacres; City littered with corpses
BUCHA, Ukraine — Bodies with their hands tied, gunshot wounds at close range and signs of torture lay scattered in a town on the outskirts of Kyiv after Russian soldiers withdrew from the area. Ukrainian authorities blamed the withdrawing armed forces on Sunday commit war crimes and left behind a "scene from a horror movie".
When images of the bodies – of people who local residents said were killed indiscriminately – emerged in Bucha, a raft of European leaders condemned the atrocities and called for tougher sanctions against Moscow.
Ukraine's Attorney General said the bodies of 410 civilians had been removed from towns in the Kyiv area recently recaptured by Russian forces.
Read the whole story here.
https://www.nbcnews.com/news/world/live-blog/ukraine-russia-war-live-updates-rcna22748 Zelenskyy accuses Russia of war crimes