Woman kidnapped in border state, held captive for almost 1 year, escapes to gas station in New Jersey: police
A woman who authorities say was kidnapped last year after meeting a man in New Mexico and eventually taken to New Jersey reportedly managed to escape her alleged captor by making a maniacal rush on her made a nearby gas station.
James W. Parrillo Jr., 57, was arrested Feb. 7 after the woman, whose name has not been released by authorities, allegedly fled the joint residence in Bass River Township and fled to a nearby New Jersey gas station This was announced by the public prosecutor's office on Friday.
Parrillo faces charges of first-degree kidnapping, second-degree strangulation and aggravated assault and third-degree criminal restraint. The woman met Parillo, whom she knew as "Brett Parker," at a gas station off Interstate 10 in New Mexico sometime in February 2022," court documents said.
At his request, she agreed to drive him to Arizona. The woman said she had been in a voluntary relationship with the defendant for about a month when he physically assaulted her while the two were in California, at which point she felt unable to leave the relationship, prosecutors said.
HIGHLAND PARK PARADE ON JULY 4TH SHOOTING SUSPECT FATHER BLESSES NOT GUILTY OF CHARGES OVER SON'S GUN LICENSE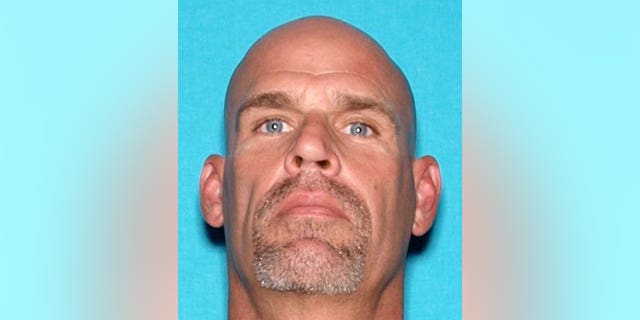 During their time together, Parrillo allegedly took the woman's phone, confiscated and used her debit cards, and isolated her from her family. The couple reportedly arrived in New Jersey sometime in December.
They had been staying in the rented room in Bass for about two weeks when the woman managed to escape. Noting an internal bolt on the door of a nearby gas station on a previous visit, the alleged victim made plans to flee there to safety if the opportunity arose.
On February 7, Parrillo began hitting and choking the woman during an argument at the residence that they shared with several other people. The man stopped when he realized the two weren't alone in the house, and she ran out in nothing but shorts and a shirt in the 42-degree weather.
As soon as she entered the gas station, the woman locked the door and told an employee that she had been kidnapped for about a year. Footage from the station's security camera shows Parrillo following the woman to the gas station and trying to open the door, then leaving when he found it locked.
A gas station attendant called the New Jersey State Police, who arrested Parrillo a short time later as he was walking down County Road 542. Parrillo is also charged with third degree obstruction of arrest and fourth degree obstruction and refusal to provide a DNA sample.
Parrillo was jailed at the Burlington County Jail after a hearing before Supreme Court Justice Christopher J. Garringer on Wednesday.
In arguing for pre-trial detention, Assistant Attorney General Theresa Hilton said information provided by the alleged victim and found on social media and other online sites suggests Parrillo may have been involved in similar predatory behaviors with individuals in other states.
"This is a deeply disturbing case in which the defendant allegedly held a woman against her will for nearly a year while he was traveling with her across the country before ending up here in New Jersey where she was able to escape," Attorney General Platkin said in an opinion. "We are reaching out to law enforcement in all jurisdictions to identify others who may have additional information about the defendant. Our investigation is ongoing and we are committed to doing everything in our power to ensure justice is done for this survivor."
CLICK HERE TO GET THE FOX NEWS APP
"The allegations of kidnapping and abuse by the defendant represent a year-long nightmare endured by the victim that spanned several states across the country and finally ended here in New Jersey," said Col. Patrick J. Callahan, Superintendent of the Das said the New Jersey State Police. "The dedication and diligence of the officers, detectives and members of the Criminal Justice Department is to be commended, but the strength and bravery of the female victim who successfully escaped her attacker is nothing short of heroic."
https://www.foxnews.com/us/woman-kidnapped-border-state-held-captive-nearly-1-year-escapes-new-jersey-gas-station-police Woman kidnapped in border state, held captive for almost 1 year, escapes to gas station in New Jersey: police