Sports
UNC center Armando Bacot before injuring his ankle again makes NCAA tournament history in Finals vs. Kansas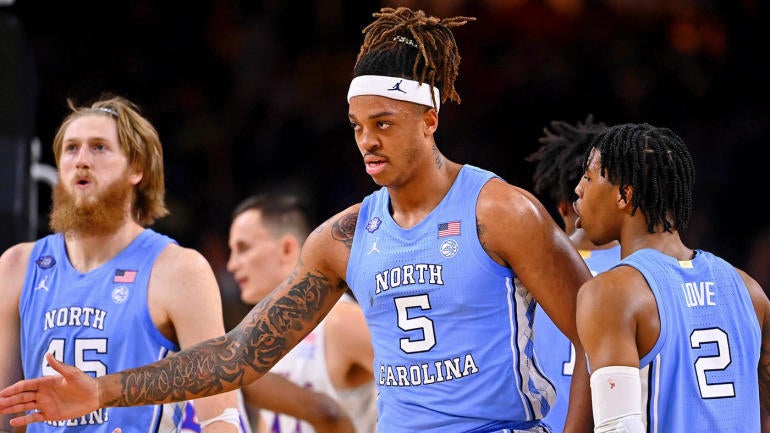 USATSI
Armando Bacot's ankle injury was a serious concern for North Carolina entering Monday night's national championship game against Kansas, and it came to a head in the final minute of the 72-69 loss when he went down hard on it again. But the Tar Heels center put in a legendary first half before that.
Despite clear limitations, Bacot amassed 12 points and 10 boards in that first half alone as UNC went into the break with a 40-25 lead. He also got both Kansas centers, starter David McCormack and backup Mitch Lightfoot, in bad trouble.
In doing so, he was the first player to ever score six double-doubles in the same NCAA tournament. He reached 31 double-doubles for the season, which ties David Robinson for college basketball's single-season record.
Bacot finished the game with 15 points and 15 rebounds, but the last-minute injury caused him to miss the end of the game. He lost his footing with 49 seconds left and Kansas led 70-69. The Jayhawks showed sportsmanship and missed a 5-on-4 opportunity, sending Bacot off before resetting and completing the win.
Bacot first injured his ankle in UNC's 81-77 win over Duke in the national semifinals on Saturday. Ahead of Monday's title game, he was spotted going through his own special warm-up routine instead of completing the usual pre-game warm-up routine with his teammates. He seemed to be walking cautiously as he tried to pull away.
But once the game started and Bacot was loose, he helped the Tar Heels dominate in toughness-related categories. In the first half alone, the Tar Heels built an 18-2 lead in second chance points. His game was praised by coach Hubert Davis during his first-half in-game interview.
"He's doing great," Davis said. "I'm so proud of him 50% or 2% that on the floor he's great news for Carolina basketball."
https://www.cbssports.com/college-basketball/news/unc-center-armando-bacot-before-re-injuring-ankle-makes-ncaa-tournament-history-in-final-vs-kansas/ UNC center Armando Bacot before injuring his ankle again makes NCAA tournament history in Finals vs. Kansas