UK air traffic control: travel disruption 'could last for days'
Holidaymakers have been hit by bank holiday travel delays that began on Monday after a UK air traffic control outage meant flight plans had to be manually entered by air traffic controllers.
According to aeronautical analysis firm Cirium, 232 flights departing from UK airports and 271 arriving flights have been canceled as of Monday afternoon.
This equates to about 8% of all expected departures and 9% of expected arrivals, Cirium added.
National Air Traffic Services (Nats), the country's leading air traffic control provider, announced at 3:15 p.m. that it had "identified and fixed" the technical problem in its systems and was working with airlines and airports to support affected flights .
On Monday, Juliet Kennedy, operations manager at Nats, said the problem meant the automated system that provides air traffic controllers with details of each plane and its route was no longer working and the incident was being investigated "very thoroughly".
She also apologized for the impact on people's travel plans.
---
READ MORE: New Tui new winter route from Glasgow Airport to Cape Verde
---
Ms Kennedy added: "The problem we had previously meant that our automated system, which provides air traffic controllers with details of each aircraft and its route, was not working. Instead, for safety reasons, we had to limit the number of flights we could operate.
"Our teams have been working hard to resolve the issue and I am pleased to say it was resolved this afternoon. However, it will be some time before flights return to normal.
"And we will continue to work with the airlines and airports to improve the situation. Our absolute priority is safety and we will be investigating today's events very carefully.
"I would like to apologize once again for the impact on the traveling public and to let you know that our teams will continue to work to get you on your way as soon as possible."
According to the PA news agency, there is no evidence that the technical problem was the result of a cyber attack.
Passengers stranded in the UK and abroad voiced their frustration as some had no idea when or how they would get to their destination.
Rory Dollard, 40, PA Media's cricket correspondent, was stuck at Bergerac Dordogne Perigord Airport in France and was told it could be up to six days before he and his family – his wife Joanne, 40, and the Children Emily, 10, and Arthur, eight – could return to Skipton, North Yorkshire.
Lyudmila Hristova, 57, said her and husband's plans to attend her niece's wedding in Bulgaria were "dashed" after BA canceled their 2pm flight from Heathrow to Sofia.
And a German couple considered returning home by train after their flight from London to Stuttgart was cancelled.
Myria Mebold, 36, also said British Airways "didn't know anything" when she and her husband asked about the situation and their flight.
Major UK airlines such as Tui and BA warned of "significant delays" for passengers due to flight schedule changes.
Airlines urged passengers to do some research before leaving for the airport as their flight times may have changed.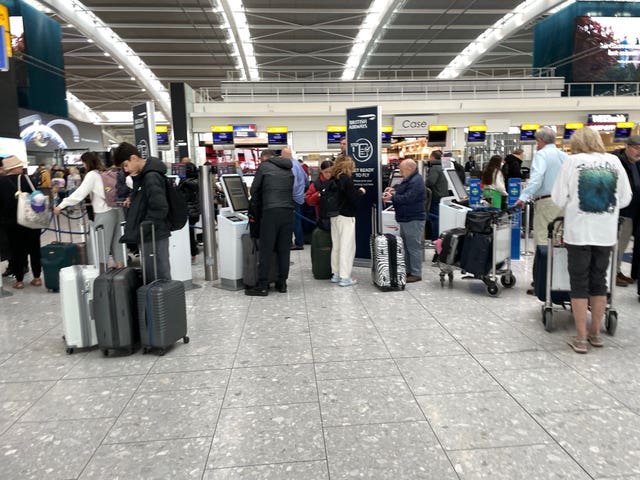 Heathrow Airport tweeted on Monday evening: "We apologize for any inconvenience caused by the technical issues encountered by the nats today."
"The issue has been resolved but schedules remain significantly disrupted. If you are traveling on August 29th, please be sure to contact your airline before traveling to the airport."
---
READ MORE: Edinburgh Airport runway temporarily closed due to pothole
---
Gatwick said it plans to operate a normal flight schedule on Tuesday but recommended passengers "check the status of their flight with the airline before traveling to the airport".
Rail operator TransPennine Express (TPE) said it will offer free travel to customers affected by air traffic control issues on Tuesday.
Affected customers returning to the UK on a different date, time or airport can also travel free of charge in TPE standard class.
Darren Higgins, Commercial Director of TPE, said: "We recognize how difficult this experience has been for many people and hope this decision will bring some much-needed relief to those affected by the technical issues."