The UK's first uterus transplant was a 'huge success' after sister's donation.
The 34-year-old married woman received the organ – also called the uterus – during a nine-hour and 20-minute operation at Oxford's Churchill Hospital, part of the Oxford University Hospitals NHS Foundation Trust.
Her 40-year-old sister has completed her own family with the birth of two children and was willing to donate her uterus.
The England-based recipient, who wishes not to be named, has stored embryos with the aim of undergoing IVF later this year.
The lead surgeons for the transplant, which took place on a Sunday in early February, were Professor Richard Smith, Clinical Director at the charity Womb Transplant UK and Consultant Gynecological Surgeon at Imperial College Healthcare NHS Trust, and Isabel Quiroga, Consultant Surgeon at the Oxford Transplant Centre, part of the Oxford University Hospitals.
Speaking to the PA news agency, Prof Smith said the experience was "quite remarkable", adding that the operation had been a "huge success".
He added: "It was incredible. I think it was probably the most stressful week of my surgical career, but also incredibly positive.
"The donor and recipient are over the moon, just over the moon.
"I'm just really happy that we have a donor who is completely normal after her major surgery and that the recipient is tolerant of her immunosuppressive therapy after her major surgery and is looking forward to hopefully having a baby." "
Ms Quiroga said she was "thrilled," adding that after the operation, transplant staff were still cautious about recording everything.
She said: "It was a very proud moment, but still quite low-key – the first two weeks post-op are nerve-wracking."
"Now I'm very proud of what we've achieved and really happy for them."
Ms Quiroga said the patient was "incredibly happy," adding, "She was absolutely over the moon, very happy and hoping she can have not just one baby, but two."
"Her uterus is functioning perfectly and we are monitoring her progress very closely."
The woman receiving the uterus was born with Mayer-Rokitansky-Kuster-Hauser (MRKH), a rare condition that affects about one in 5,000 women.
In MRKH, women have an underdeveloped vagina and an underdeveloped or absent uterus. The first sign of the condition is when a teenage girl does not have a period.
However, your ovaries are intact and continue to produce eggs and female hormones, so conception through fertility treatment is possible.
---
READ MORE: Glasgow heart transplant patient appears in Tom Walker's video
---
Before the woman received her new uterus, she underwent two rounds of fertility stimulation to produce eggs, followed by intracytoplasmic sperm injection (ICSI) to create embryos.
Eight embryos have reached the blastocyst stage – meaning they have a good chance of success with IVF – and have been frozen for treatment later this year at the Lister Fertility Clinic in central London.
Prof Smith said the transplanted uterus is currently "working exactly as it should" and plans for IVF are on track.
The woman must take immunosuppressive drugs during each subsequent pregnancy to prevent her body from rejecting the donor organ.
The transplant is expected to last a maximum of five years before the uterus is removed.
A second uterus transplant in another woman in the UK is planned for this autumn, with more patients in the preparation phase.
Prof Smith said: "The surgical operation was incredibly successful.
"The donor and the recipient are two absolutely lovely women. We couldn't get a better result.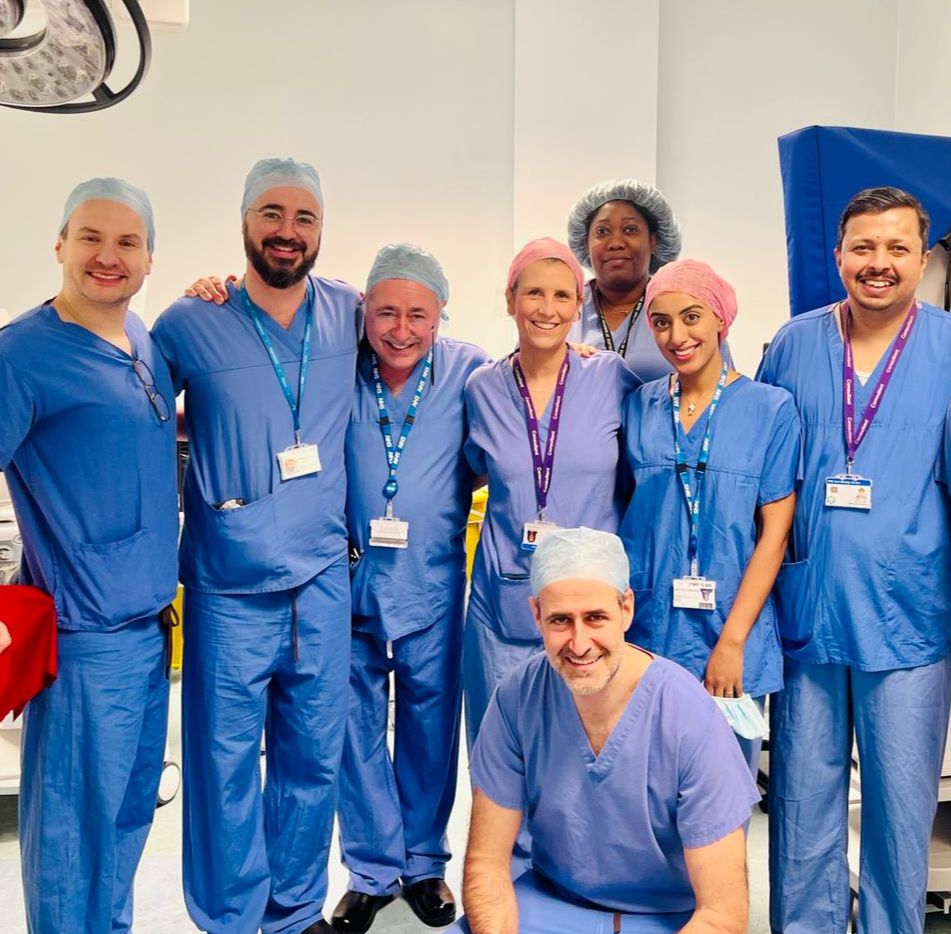 "People say we must be proud, in reality we are relieved.
"I feel emotional about all of this. At the first consultation with the recipient after the operation, we were all almost in tears."
He said the day of the operation, which involved more than 30 staff, was a "big and long day".
The operation to remove the older sister's uterus lasted eight hours and twelve minutes.
An hour before the uterus was removed, surgeons began operating on the younger sister.
Prof Smith said: "All the surgical staff met at 7am and we were back at our hotel by 6.30am the next morning."
---
READ MORE: Record number of heart transplants in Scotland
---
When asked if they were nervous about going to the theatre, Prof Smith said, "Not nervous, I would say, focused and aware that failure was not an option."
Ms Quiroga said: "Richard has been preparing for this for 25 years, I've been at this for nine years and we were fully operational well before the Covid outbreak…
"We're just glad this day has come…"
"The whole team did an extremely good job, it was an incredibly proud moment.
"It was such an incredible feeling."
Before the operation, both sisters received extensive advice and were examined by gynaecologists, transplant surgeons, obstetricians, psychologists, anesthesiologists and pharmacists.
They were also evaluated by an independent Human Tissue Authority (HTA) assessor to ensure they were aware of the risks and confirmed that they would undergo the surgery of their own free will.
The case was also reviewed by an HTA panel before being given clearance to proceed.
The transplant costs of around £25,000 were funded by donations to charity Womb Transplant UK.
This included paying the NHS for the time in surgery (the transplant took place when the operating room was not being used for NHS work) as well as the patient's hospital stay.
Surgeons and medical staff involved in the transplant were not paid for their time.
Prof Smith said he looks forward to the patient being able to undergo IVF.
"Hopefully the embryo will grow, and hopefully nine months later she'll have a cesarean," he said.
"Once she has had a c-section, six months later, she has a choice of having a full hysterectomy or having another child.
"We know right now that she wants another baby, that's for sure."
Ms Quiroga said: "The reason we are waiting and not going straight to IVF is because we want to make sure that she and the transplant are stable and so far she has been very, very stable."
If the woman becomes pregnant, she will be cared for in a specialist maternity clinic at Queen Charlotte's and Chelsea Hospital, which is also where the delivery would take place.
So far, Womb Transplant UK has approved ten surgeries using brain-dead donors and five using a living donor, most likely a sister's or mother's uterus. Sufficient funds are currently available for four of these projects.
To be eligible for the scheme, women must live in the UK and be between the ages of 24 and 40 (or 42 if embryos are frozen before age 38).
More than 500 women have reached out to the charity over the years. About 50 are currently under control, with a smaller number at an advanced stage.
When asked how many could benefit from uterine transplants in the future, Prof Smith said, "Realistically you're looking at a peak of 20 to 30 living donors per year for the foreseeable future."
"I suspect that in the future there will be a center based here or between Oxford and Imperial and another center to the north."
The team also hopes to eventually use living donors who are not relatives but donate their organs altruistically.
Ms Quiroga said: "We have women who approach the charity … for example young women who say, 'I don't want to have children, but I would like to help others have a child' or 'I already have my children get someone I would love.'" other women to have that experience.
"So yes, there will definitely come a time when this will be a major donor source."
Kate Brintworth, chief of midwives at NHS England, welcomed the "potentially exciting development for the NHS" which would give the recipient "a priceless opportunity to deliver a baby".
She added, "On behalf of the entire healthcare community, I would like to extend my best wishes to the donor and recipient for a speedy recovery at this amazing milestone."
Adam Balen, Professor of Reproductive Medicine and Surgery at Leeds Teaching Hospitals NHS Trust, said the operation was an "outstanding and highly meaningful achievement".