The founder of the Iowa Youth Program will continue to do what he can to help children after he was shot
The founder of an education program for at-risk youth in Des Moines says he will "do whatever it takes to help children who, in the eyes of so many, are unavailable" after he was injured in last month's shooting in which two students died were killed.
Will Keeps, 49, a former Chicago gang member who moved to Iowa in his 20s and later founded the Starts Right Here program, made his first public comments about this weekend's shooting in a video the police department posted online.
"We have made every effort to help children who are unattainable in the eyes of so many people," he said. "Our youth expect us not to run away. If they keep seeing us saying 'oh we can't, we're done', what do you think they will do? You will be done. So become a beast. We need you to fight, become a warrior. And we have to do it together."
IOWA YOUTH PROGRAM DIRECTOR IN SCHOOL SHOOTERS INJURED RELEASED FROM HOSPITAL
Keeps, a rapper whose first name is Will Homes, had his right arm in a cast held up by a blue sling in the video and had a walker seated next to his chair. He was released from the hospital just last week.
Students Gionni Dameron, 18, and Rashad Carr, 16, were killed in the Jan. 23 shooting at the program, which provides assistance to students on contract with Des Moines Public Schools. Two other teenagers have been charged with murder in the shooting. Police said all four teenagers were involved in gangs, although the victims' families denied this.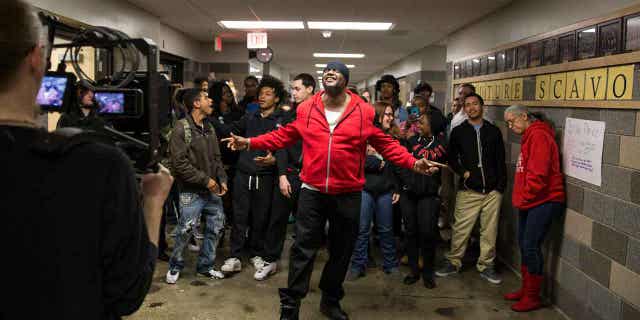 Keeps said he continues to experience the type of violence he experienced as a youth in Chicago, when he saw rival gang members kill his friend and he himself was severely beaten.
MURDER OF 2 IOWA STUDENTS WAS A TARGETED ATTACK, POLICE ACCORDING
"I lived it and I saw it every day of my life. I'm not going to sit up here and ignore the fact that we're killing each other. And we kill ourselves as easily as seeing a fly on the wall and hitting it, or seeing an ant on the floor and stomping on it," he said. "Our youth is in trouble, and we've been doing the same thing over and over, and it doesn't work."
Police have charged Preston Walls, 18, and Bravon Michael Tukes, 19, both of Des Moines, with two counts of first-degree murder, one count of attempted murder and one count of participation in a criminal gang. Bail was set at $2.5 million each.
CLICK HERE TO GET THE FOX NEWS APP
Police say Walls, a Starts Right Here participant, entered a common area of ​​the building Jan. 23 and opened fire before fleeing in a car driven by Tukes. The two belong to a gang and committed the shootings "in connection with that gang membership," police said.
Walls waived his preliminary hearing and is awaiting an indictment, which is scheduled for next month, according to online court filings. His attorney declined to comment.
Tukes' preliminary hearing is scheduled for Tuesday. The lawyers appointed to represent him could not be reached on Sunday.
https://www.foxnews.com/us/iowa-youth-program-founder-remain-helping-kids-being-shot The founder of the Iowa Youth Program will continue to do what he can to help children after he was shot