Sunny and stellar today, wetter with a passing storm on Tuesday
Not many chances of rain in the next 7 days…
TODAY: Sunny, low humidity. hello 87
TONIGHT: Mostly clear, muggy. Lo 70
TUESDAY: Damp, showers or T-gale. hello 92
Yesterday was a picture perfect July day in Central PA with seasonally high temperatures and low humidity. Today this trend will continue, with high pressure firmly under control. Expect lots of sunshine today with highs in the upper 80's and low humidity again. Tonight it will be mostly clear and muggy with a slight increase in dew point and humidity.
Tomorrow will be hot and muggy ahead of a cold front. Highs will be in the low 90s and the extra humidity could trigger a shower or T-Storm, but widespread rain or severe weather is unlikely. The remainder of the week will be warm and mostly dry with decreasing humidity Wednesday through Thursday. A few weak troughs can swing through but the chance of rain seems minimal.
The end of the week offers more heat as high temperatures rise to almost 90C, especially for next weekend. The daily storm risk may need to be adjusted later in the week as we get more data and get closer to actual days, but after tomorrow the chance of rain looks low. Honestly, rain looks heavy tomorrow, too. So get ready to water the lawns and gardens. It's the season – the thick summer!
-Meteorologist Brett Thackara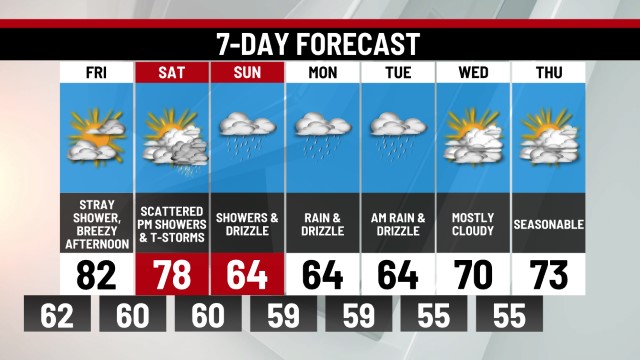 https://www.abc27.com/weather/forecast/sunny-and-stellar-today-more-humid-with-a-passing-storm-tuesday/ Sunny and stellar today, wetter with a passing storm on Tuesday