Storms Scotland: Met Office reveal this year's names
Along with Met Eireann in Ireland and KNMI, the Dutch Weather Service, meteorologists name storms when they are expected to have "moderate" or "strong" impacts on people in the UK, Ireland or the Netherlands.
This helps convey the severity of a storm to the public and helps people see what steps they need to take, the Met Office said.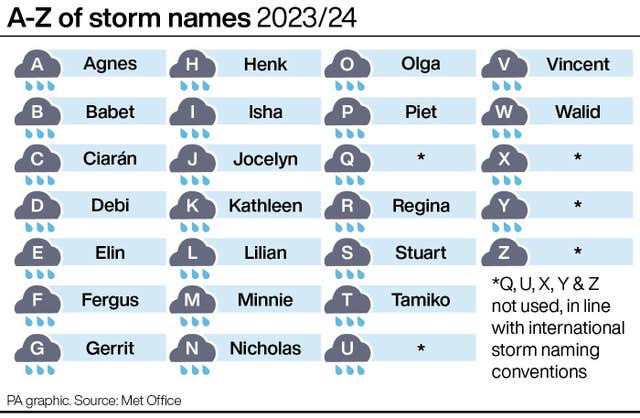 The three organizations are working together to compile the roster ahead of the following season, which runs from September to August.
Will Lang, head of situational awareness at the Met Office, said: "This is the ninth year that we've been naming storms and we're doing it because it works."
"Naming storms makes it easier to communicate severe weather and provides clarity as to when people may be affected by the weather."
---
READ MORE: Heavy rain warning as Storm Betty arrives
---
The public in all three countries is submitting suggestions for storm names, with the Met Office saying it wants to include people working to protect the public.
Met Eireann wanted to include names of famous scientists, such as Jocelyn, named after astrophysicist Dame Jocelyn Bell.
KNMI's proposals are submitted by the Dutch public during visits to the meteorologist throughout the year.
Ciaran Fearon, who works for the Department of Infrastructure in Northern Ireland and provides information on river levels and coastal flooding, was one of the people nominated by the Met Office.
He said: "With the impact of climate change, we are more aware than ever of how the weather can affect all of us in every aspect of our daily lives."
"We must respect any weather event and this work, particularly during times of severe severe weather and storms, helps ensure we are all as prepared as possible to reduce the impact of such events."
Debi Garft, who recently retired as senior policy officer on the Scottish Government's flood team, makes the list of names after helping found the Scottish Flood Forum and Scottish Flood Forecasting Service.
She said: "It is important that we take all steps to protect ourselves, our families and our property by preparing for extreme weather events."
"Checking Sepa (Scottish Environment Protection Agency) flood maps to see if your property or business is at risk of flooding, signing up for free local flood alerts and regional flood alerts from the Sepa Floodline, and using the daily Scottish flood forecast are good first steps Steps. "
---
READ MORE: CalMac ferry helps rescue stricken canoeists near Mallaig
---
One name on the list, Minnie, was inspired by Minnie the Minx from the Beano comic following the inclusion of Storm Dennis in 2020.
A feature on storms is expected to appear in an issue of Beano this month.
Regina Simmons, who works for Natural Resources Wales' warning and information team, is on the list after working on river and coastal flooding forecasts.
She said: "So many people believe that flooding will not happen to them. The first thing we can do is check if there is a risk of flooding in our area before it starts raining."
This is the first year that the traditional male/female order of names will be broken, allowing some of the more popular names submitted to be included, the Met Office said.
Stuart Sampson has worked for the Environment Agency managing drought water supplies for almost 20 years.
After being included in the list, he said: "Our weather is a great conversation starter. When we give a storm a name, we can all speak about an event with a clear and shared understanding.
"Everybody knows what you mean about Hurricane Katrina, for example, you know the scale and the impact it had on America. But if you said the low-pressure cyclone, it wouldn't resonate as much.
"By naming storms, it will help everyone be more prepared and in conversation."