Steve Cooper is not thinking about his future at Nottingham Forest
Forest collapsed on the road to a fourth straight league defeat and sit above the last three on goal difference alone after losing the lead to their relegation rivals at Elland Road.
Orel Mangala's first goal for Forest gave them an early lead but Leeds struck back with first-half goals from Jack Harrison and Luis Sinisterra to earn a deserved decisive win.
When asked if he was concerned about his position, Cooper said, "I respect the question and I understand it 100 percent, but I'm not the type to think that way.
"I'm always thinking of the greater good of the club so any kind of concern, disappointment, frustration I'm feeling right now is the fact that Forest lost a game they could have done so much better in.
"That's how I'm wired. I've taught myself to only focus on the things I can control and to work as hard as I can every day, to believe in my work and to stay true to it. That's where I am."
Cooper, who has received the support of the majority of Forest fans so far, said he still believes in himself and his players and confirmed there had been no contact from the club's board.
"I will forever be grateful to the fans and that's why it feels like winning games and losing games hurts," he added.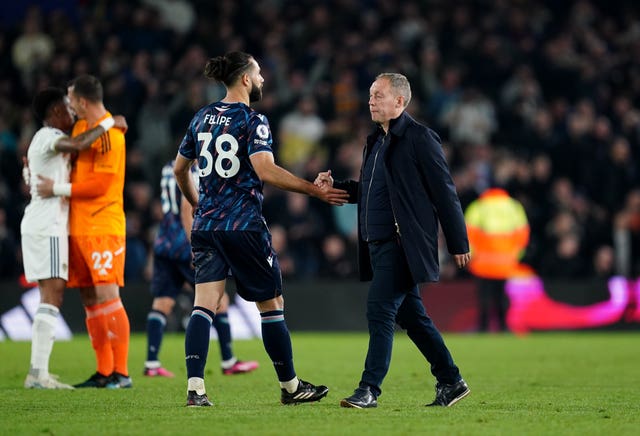 "Because they're so good to me, when we let them down like tonight, it hurts.
"So I think, try to do the right thing and do the good for the club. I just don't think about myself.
"The more support I get, the more determined and paranoid I become about not letting them down."
Leeds climbed out of the bottom three and rose five places to 13th, two points above the drop zone after collecting 10 points from boss Javi Gracia's six games in charge.
Gracia said: "I'm very happy because the performance was really good and I think we got a good result, but first of all the performance was good.
"I think we should have killed the game beforehand. We didn't do it and suffered at the end of the game.
"But the performance was good. The attitude after the goal at home and the reaction was perfect and I'm really proud of that."
Gracia has had a 50 per cent win rate after victories over Southampton, Wolves and Forest since replacing Jesse Marsch in February.
"I'm trying to do my job," added the former Malaga, Watford and Valencia manager.
"I'm trying to help players understand each and every game, how to manage the game and have more options to get a good score. This is my job. But the protagonists are the players."
https://www.heraldscotland.com/sport/23435833.steve-cooper-not-thinking-nottingham-forest-future/?ref=rss Steve Cooper is not thinking about his future at Nottingham Forest