Roald Dahl's children's books were rewritten to remove references to "fat" characters and add "inclusive" gender designations
A publisher has modified children's books by Roald Dahl — the author of several well-received children's books that went on to become blockbusters, including Matilda, James and the Giant Peach, and Charlie and the Chocolate Factory — to remove language now deemed offensive.
Puffin, the editor of Dahl's classic works, hired sensitive readers to make changes to certain parts of the author's wording to ensure the books "can still be enjoyed by all today."
The editor's rewrite, first reported by The Telegraph, changed numerous descriptions of certain characters' physical appearance, removed references to some characters being fat, and changed some languages ​​to be gender-neutral.
Augustus Gloop, the chubby character from "Charlie and the Chocolate Factory," is now described as "huge," while Mrs. Twit, a character from "The Twits," is only described as "beasty" instead of "ugly and bestial."
SIX DR. SEUSS BOOKS WILL NOT BE PUBLISHED BECAUSE OF RACIAL IMAGES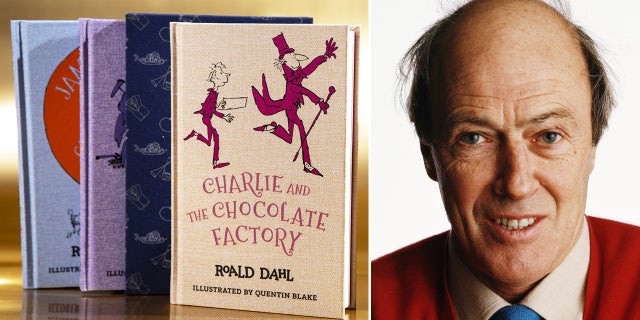 In "James and the Giant Peach," the character of Miss Sponge is no longer described as "the fat one," Miss Spider's head is no longer "black," and the earthworm has given up its "lovely pink" skin for "lovely smooth skin."
In Dahl's The Witches, first published in 1983, a paragraph noting that witches are bald under their wigs includes a new line that reads, "There are many other reasons women might wear wigs, and because of that." is certainly nothing to complain about. "
Another passage from The Witches that originally described a "fat little brown mouse" was changed to "little brown mouse" and a passage that used to read, "'Here's your little boy,' she said. 'He needs to go on a diet'" was changed to "Here's your little boy".
In "Matilda" the description of Mrs. Trunchbull's "big horse face" was changed to just "face" and "eight crazy little idiots" is now "eight crazy little boys".
The changes have also led to the inclusion of gender-neutral language.
ROALD DAHLS FAMILY APOLOGIES FOR HIS ANTISEMITIC REMARKS 30 YEARS AFTER HIS DEATH
The Oompa Loompas in "Charlie and the Chocolate Factory" were once described by Dahl as "little men" but are now known as "little people" in the rewritten books.
Similarly, the Cloudmen in James and the Giant Peach are now Cloudmen.
A note at the bottom of the copyright page of Dahl's latest written editions reads: "The wonderful words of Roald Dahl can transport you to different worlds and introduce you to the most wonderful characters. This book was written many years ago, so we regularly review the language to make sure everyone can still use it today."
There were several changes to Dahl's original text, but the Roald Dahl Story Company defends the decision, concluding that "it is not uncommon to review the language" used in past works and that the changes are "small and carefully considered".
"We want to make sure that Roald Dahl's wonderful stories and characters are still enjoyed by all children today," a company spokesman told Fox News Digital. "When releasing new editions of books written years ago, it's not uncommon to review the language used while updating other details like a book's cover and page layout. Our guiding principle was to retain the storylines, characters, and the irreverent and sharp-edged spirit of the original text. Any changes made were small and carefully considered."
"As part of our language review process, we worked with Inclusive Minds, a collective for people passionate about inclusion and accessibility in children's literature," the spokesperson added. "The current review began in 2020, before Dahl was acquired by Netflix. It was co-directed by Puffin and the Roald Dahl Story Company."
Puffin, along with the Roald Dahl Company, made the changes in coordination with Inclusive Minds, described by the spokesperson as "a collective of people passionate about inclusion and accessibility in children's literature."
Dahl, who died in 1990, has been under investigation in recent years for alleged anti-Semitic remarks he made before his death.
CLICK HERE TO GET THE FOX NEWS APP
In December 2020, three decades after his death, Dahl's family released a statement to apologize for the "pain" his books caused.
"The Dahl family and the Roald Dahl Story Company deeply apologize for the continued and understandable pain caused by some of Roald Dahl's comments." is the short explanation of the family. "These biased statements are incomprehensible to us and are in stark contrast to the man we knew and the values ​​at the core of Roald Dahl's stories that have positively influenced young people for generations."
It concludes, "We hope that, just as Roald Dahl did at his best and at his absolute worst, he can help remind us of the enduring power of words."
The Roald Dahl Story Company did not immediately respond to a request for comment from Fox News Digital.
https://www.foxnews.com/politics/roald-dahl-childrens-books-rewritten-delete-references-fat-characters-add-inclusive-gender-terms Roald Dahl's children's books were rewritten to remove references to "fat" characters and add "inclusive" gender designations