New York tabby cat seeking 'leisure life' with new adoptive family
A charismatic kitty hopes to flap up its paws in a cozy new home.
Simon, a seven-year-old tabby, is currently being put up for adoption by the Hamptons' Animal Rescue Fund (ARF) in New York.
ARF described Simon as a "pretty" cat with "a lot of personality."
HAMPTONS WHITE SHEPHERD LOOKS FOR HER FOREVER HOME: "GIVE HER A CHANCE"
The rescue group joked that Simon currently serves as Executive Assistant to ARF's Adoption Director.
But the cat was distracted by humble dreams of settling down, the group also said.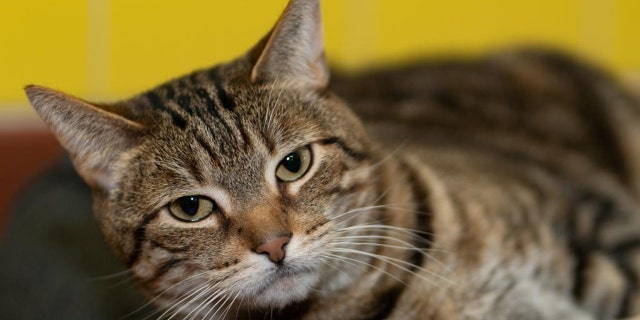 "Simon, who was once eager to climb the corporate ladder, now spends his days sunning himself, seeking attention and foraging for his favorite treats," ARF said.
"He hopes to continue his recreational life with you," ARF added, addressing the cat's potential new owners.
'CUTE FRIENDLY' DOG IN UTAH NEEDS A HOME: SHE'S 'ALL THE FASHIONIST'
ARF shared that Simon would do best as an "only child" in a home where he can be alone to give "lots of cuddles".
The Animal Rescue Fund of the Hamptons opened in East Hampton, New York in 1974.
ARF has helped thousands of cats and dogs get compassion, food, shelter, medical attention, education and more.
CLICK HERE TO SUBSCRIBE TO OUR LIFESTYLE NEWSLETTER
As it approaches its 50th anniversary, the rescue has begun a renovation of its facilities – which will help secure its future within the community.
The Forever Home project will include a new 8,400 square foot welcome center, kennel and training center.
Interested in adopting Simon?
Learn more about him at the rescue's website, arfhamptons.com.
CLICK HERE TO GET THE FOX NEWS APP
Want to read more about other pets available for adoption? Check out this recent article from Fox News Digital: Adoptable tuxedo cat named Janet is hoping for a Happy New Year in a new home
Fox News Digital's Brittany Kasko contributed to this report.
https://www.foxnews.com/lifestyle/new-york-tabby-cat-looking-life-leisure-adoptive-family New York tabby cat seeking 'leisure life' with new adoptive family