Matt Gaetz admits Kevin McCarthy could win the House of Representatives election, but with a big caveat
Rep. Elect Matt Gaetz, R-Fla., on Thursday conceded that Rep. Kevin McCarthy, R-Calif., could eventually be elected speaker of the House of Representatives, but argued he would be a speaker in a "straitjacket." ."
Speaking to Fox News Digital ahead of the House of Representatives meeting for a third day to try and pick a speaker, Gaetz said McCarthy offered "anything" his critics asked to win their votes, but he doubted that it would be enough to get the longtime Republican leader across the finish line.
"There are only two outcomes here: either Kevin McCarthy retires from the speaker race, or he has to wake up every morning and put on the best constructive straitjacket in the world before taking the prayer and the promise at the beginning of the house session," Gaetz said adding that several of his colleagues were working on "how to construct this straitjacket".
LIVE UPDATES: THE VOTING FOR HOUSE SPEAKER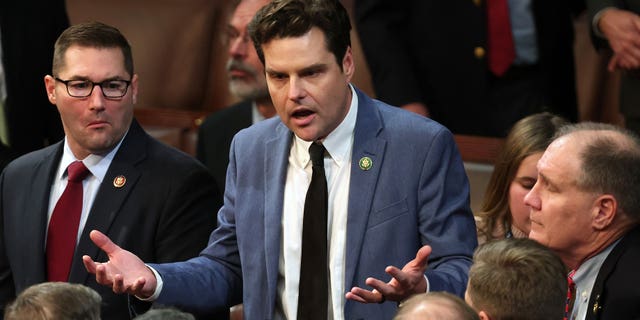 "Kevin McCarthy has offered all he can and all we can ask given his current desperation and I can't tell you if that will be enough to get him there. I doubt it will be like that," he said.
Gaetz didn't say why he still chose not to support McCarthy, even though the latter made concessions to critics.
McCarthy failed to secure the necessary majority to be elected speaker in six votes in two days. McCarthy's support dropped from 203 votes in the first vote to 201 votes in Wednesday's final votes, with 20 members of the GOP voting for Rep.-elect Byron Donalds, R-Fla.
Before a meeting with Republicans ahead of Thursday's vote McCarthy was asked if he expects the number of votes to be the same today. He said, "Yeah, pretty much."
McCarthy added: "Nothing is agreed until everything is agreed. I wouldn't read anything into the votes today."
CLICK HERE TO GET THE FOX NEWS APP
When asked what he thinks would happen if McCarthy refuses to remove his name from consideration and cannot secure a majority vote, Gaetz merely referred to a quote from former President Donald Trump.
"To paraphrase America's greatest president, 'We'll see,'" he said.
https://www.foxnews.com/politics/matt-gaetz-admits-kevin-mccarthy-might-win-house-speaker-vote-major-caveat Matt Gaetz admits Kevin McCarthy could win the House of Representatives election, but with a big caveat