Marjorie Taylor Greene's 60 Minutes interview is a great example of leaving the far right uncovered
In the roughly two-and-a-half years since Rep. Marjorie Taylor Greene (R-Ga.) burst into the spotlight, she's been compared Covid security measures to the holocaustphysically kicked a gun safety advocate, spouted crazy conspiracy theories, and generally raised hell epically stupid fashion. Nonetheless, the rabid anti-trans Speaker at a 2022 White Nationalist conference did she 60 minutes debut on Sunday and it was a perfect example of how the media should not report on openly fascist politicians.
Ana Gasteyer satirizes the girl boss in "American Auto"
It doesn't help that Greene's actual comments on the show were absolutely insane. Greene has commonly called the Democratic Party the party of "pedophiles" for its (honestly lukewarm) support for the LGBTQ community. "Democrats support, even Joe Biden, the President himself, supports child sexualization and transgender operations," Greene said. "Sexualizing children is what pedophiles do to children."
Let's be absolutely clear: this is the kind of language that people – trans children, trans adults, drag performers, supportive parents of trans children, even doctors – killed. Broadcasting this on national television is beyond irresponsible. In a time of violence attacks and even armed force alignment queer nightclubs And roomsPlatforming this language is dangerous and unjustifiable. The completely unfounded queerphobic "pedophilia" panic Targeting LGBTQ people is about fomenting panic and hatred while the right actively sexualizes and harms children. In real time, we see Republicans like Greene campaigning for more guns in schools, refusing to address school shootings, banning gender-affirming health services that save the lives of trans children, for inexplicable reasons sexualizing girls' periods.
G/O Media may receive a commission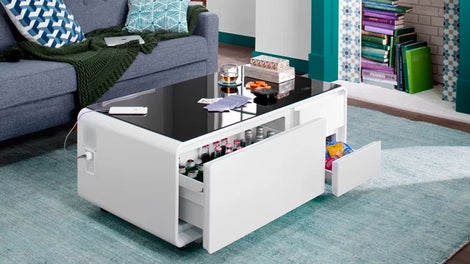 13% discount
Sobro Smart coffee table
The coffee table of the future.
It's a coffee table with a fridge, high-quality Bluetooth speaker, LED lights, and plenty of power outlets.
When asked about her "insult" by interviewer Leslie Stahl, Greene equated her decision to label Democrats a pedophile with Democrats calling her a racist. "They call me racist. They call me an anti-Semite, which is not true. I don't name anyone. I'm basically calling out the truth," she said.
In other words, the interview was a phenomenal waste of time that did nothing but further encourage anti-trans fanatics.
In the days leading up to Sunday, many correctly predicted this outcome. Others, of course, hoped that the interview would be an opportunity to fact-check or hold Greene accountable for her unfortunate policies. But that's just not how it works. Marginalized people will never benefit from the fanatics' platform. That's because bigoted and their equally bigoted followers don't care about statistics or facts or a disapproving "Wow!" von Stahl in response to Greene calling the Democrats a party of pedophiles. Her followers are looking for absolutely any reason to continue harassing or attacking queer and trans people — and for some, the torrents of Greene bullshit spewing off their TV screens is all they need. Thanks for nothing, CBS!
https://jezebel.com/marjorie-taylor-greene-s-60-minutes-interview-is-a-grea-1850293516 Marjorie Taylor Greene's 60 Minutes interview is a great example of leaving the far right uncovered