Kate Hudson says ex-husband Chris Robinson taught her what it felt like to be "loved unconditionally".
Kate Hudson opened up about how she fell in love with her first husband Chris Robinson as she reminisced on their Hurricane romance.
The 43-year-old actress moved in with the Black Crowes frontman, now 56, just days after they met in May 2000. The couple married on New Year's Eve that year.
During an appearance on The World's First Podcast, the Fool's Gold star – who wed Robinson when she was 21 – explained why she decided to marry at such a young age.
"I just jump in at the deep end in everything I do," Hudson told hosts Erin and Sarah Foster.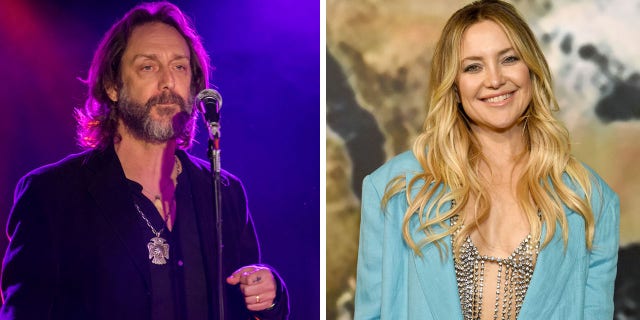 "People thought it was impulsive, but I was just like, 'You know what? I'll just get straight to the point. I won't question it.'
KATE HUDSON, DAUGHTER OF GOLDIE HAWN AND KURT RUSSELL ON POWER OF ATTORNEY IN HOLLYWOOD: 'IT'S NOT IMPORTANT'
"I'm in love with him. I'm not going to pretend to say, 'Oh, we should wait.' I'm madly in love and want to marry him so I just didn't think twice, I kinda still am except with a little more wisdom under my belt.
The Oscar nominee recalled meeting Robinson when she was 20 while on vacation in New York. Hudson said when she returned from her trip days later, she declared that she was going to marry the rocker.
The two, who share 19-year-old son Ryder, ended their seven-year marriage in October 2007.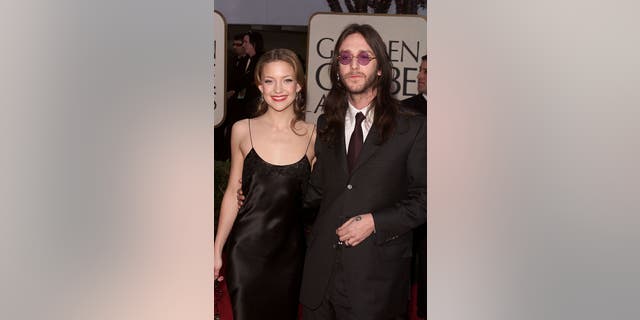 Although the couple ultimately went their separate ways, Hudson recalled that they "adored" each other.
"We were so in love," said the California native. "He was also so important in teaching me what it feels like to be loved unconditionally.
"And Chris completely opened that floodgate for me," added Hudson. "No matter how complicated the relationship got at some point, the most important moment for me was meeting him and understanding how that felt."
Hudson began dating Muse singer Matt Bellamy in 2010 after they met at the Coachella Music Festival in Indio, California. The two announced they were engaged in April 2011 and welcomed child Bingham "Bing" in July of that year.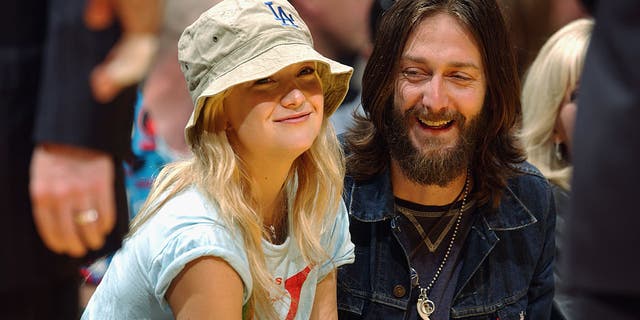 In December 2014, the actress and the musician announced that they had called off their engagement. However, they have remained on good terms since the end of their romance.
The "Almost Famous" star began dating musician Danny Fujikawa, 36, a longtime family friend, in December 2016. Hudson first met the musician when she was 23 and pregnant with Ryder.
CLICK HERE TO SUBSCRIBE TO OUR ENTERTAINMENT NEWSLETTER
During her interview with Sarah and Erin, Hudson recalled going on a hike with Fujikawa and then realizing it was a date.
"There was something about Danny that came from such an honest place that I could tell he just wanted me to see him," she said.
"And so he was nervous and I was like, 'OK, this is a date.' And I just had to wrap my head around it, and then at the end of the hike I was like, 'He's so awesome.'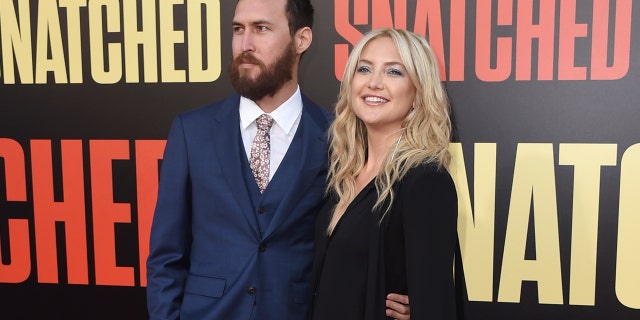 "He was just so nice and loving and pure, and in my mind I was like, 'I think I'm ready for a guy who's so nice, who really likes me, which I think could be good.'"
In April 2018, Hudson announced they were expecting their first child together, and they welcomed daughter Rani later that year. The two announced that they were engaged in September 2021.
CLICK HERE TO GET THE FOX NEWS APP
In November, Hudson considered amicable co-parenting of her three children from their three different fathers.
"It might not look traditional from the outside, but inside I feel like we're killing it," the Glass Onion: A Knives Out Mystery star told the outlet.
"The unit that I created with three children from three different fathers is a really strong unit and it's ours."
https://www.foxnews.com/entertainment/kate-hudson-says-ex-husband-chris-robinson-taught-how-felt-unconditionally-loved Kate Hudson says ex-husband Chris Robinson taught her what it felt like to be "loved unconditionally".