Haaland wants to crown Man City's impressive debut season with the treble
The striker kept his focus on City's finals as he accepted the Football Writers' Association Footballer of the Year award in London on Thursday.
Haaland has scored 52 goals in 51 games for City – ahead of Sunday's Premier League final in Brentford – after joining for £51million from Borussia Dortmund last summer.
City meet Inter Milan in the Champions League final in Istanbul on June 10, a week after they played Manchester United in the FA Cup final, having already won the Premier League.
They want to build on the successes of their city rivals from 1999.
Haaland said: "There are still two finals left, we have to stay focused even if we won the Premier League."
"We have to stay focused to achieve what we can achieve in the next two finals. I will do everything to get good results in the final and hopefully win both.
"It's good to be favorites (against Inter Milan) because that means we have qualities, we attack the game our way, we have to play our football and in the end we'll see who wins it."
Haaland received 82 per cent of the vote for the FWA award, 75 years after Sir Stanley Matthews won the first trophy, ahead of Arsenal's Bukayo Saka and Martin Odegaard.
"I feel good, it's a special moment," he added, speaking to the FWA. "I expected to do good things, but I didn't expect to do this."
At 36, he broke the record for most Premier League goals in a season as Manchester City clinched their third straight title with three games to go after at times being eight points adrift of Arsenal.
"To be honest it's really just a matter of going game by game and focusing on what we can focus on," said the 22-year-old.
"I don't like to focus on the future or the past. I like living in the moment and going from game to game – exactly what he (Pep Guardiola) said and we did.
"We focused and achieved exactly what we wanted to achieve. In the end it's unreal what we've done, being behind all season and coming together as one. It was incredible and an incredible feeling."
Chelsea's Sam Kerr won the women's award, becoming the first player to win the trophy in consecutive seasons.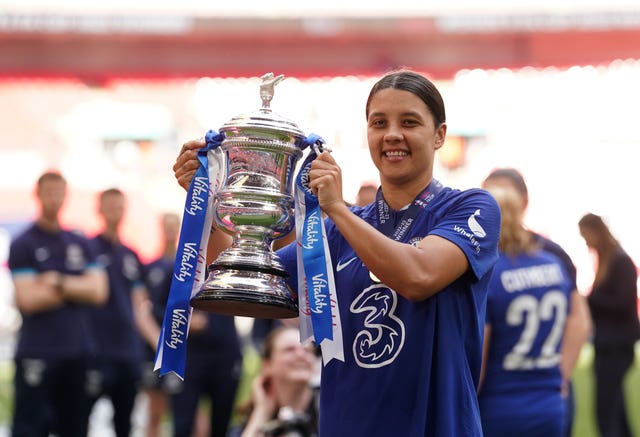 The striker scored the winning goal in Chelsea's 1-0 FA Cup final win over Manchester United earlier this month.
Chelsea, who are two points clear of Manchester United, know Saturday's win at Reading will secure the WSL title on the final day of the season.
Kerr said: "It's amazing. I'm very proud of that. After the EM, women's football grew a lot. If you walk down the street, the rush is bigger. Everything has just increased in the last year.
"I think it may seem easy to some, but every year it gets harder and harder (to win the league). Anyone involved in football knows how hard it is to come back and stay on top year after year. That's why we're doing everything we can to win on Saturday."