Grocery CEOs grilled by MPs over food price inflation in Ottawa
Loblaw, Empire and Metro defend themselves against allegations of profiteering in the grocery business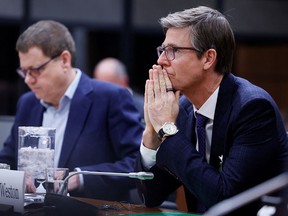 Article content
Galen Weston appeared in a corridor at the House of Commons, walking like he had taken several deep breaths before turning the corner. A herd of reporters shuffled around him, but he kept going, smiling and nodding, behaving as normally as you could possibly expect, given the circumstances.
Article content
"Do you feel like you're Canada's villain?" someone called to Weston, president of Canada's largest supermarket chain Loblaw Cos. Ltd. and one of the country's wealthiest people.
Article content
He didn't answer.
Weston was in Ottawa, along with his counterparts from the other two big grocers, Empire Co. Ltd. and Metro Inc., to face a parliamentary hearing into allegations of profiteering in the grocery business.
The appearance on March 8 became perhaps the biggest political spectacle of the day, broadcast on television — a rare feat for the nondescript agriculture committee. The hearing was bumped from its normal, modest room in the Wellington Building to an expansive boardroom in the basement of West Block in the centre of Parliament Hill.
Article content
Just before the hearing started, federal New Democratic Party leader Jagmeet Singh walked in with a two-foot stack of papers that he said were questions for the grocers from more than 2,000 concerned Canadians. Singh, who has become the grocers' fiercest critic over the past year, decided to parachute into the hearing, bumping the regular NDP MP on the committee, so he could personally interrogate the executives.
Weston stood up, walked over to him, and offered his hand.
Singh took it and without smiling said, "I'm going to ask you some tough questions today."
During the hearing, Singh pressed Weston to say how much corporate profit would be too much for his supermarket chain to make, at a time when food inflation is at its worst since the early 1980s.
Article content
"How much is enough?" Singh asked. "You're making more than you've ever made, ever. And you've not contradicted that point because you know it's true."
Weston said "reasonable profitability" is part of operating a successful business, and those profits are reinvested into the company.
"Our profit doesn't go to me," he said. "It goes back into this country."
PR nightmare
In many ways, the hearing was an opportunity for the executives to finally lance a boil that has festered on the food industry for more than a year. In that time, the grocers have been unable to shake allegations that they took advantage of inflation to pad their profits.
The chains have tried fighting back. They've denied and denied. Michael Medline, chief executive at Empire, the Stellarton, N.S.-based retailer that owns Sobeys, Safeway, IGA, Farm Boy and Foodland, took the stage at his AGM last summer and called critics "armchair quarterbacks" who didn't understand the food business enough to realize the gains were coming from operational improvements. Loblaw and Metro argued that their profit and margin growth wasn't coming from food sales, but from gains in the higher-margin pharmacy categories such as cosmetics. Despite all that, the grocers' PR nightmare persisted.
Article content
"It doesn't matter how many times you say it, write it, or tweet it. It is simply not true," Medline told the committee.
Last fall, the agriculture committee voted to study the issue, and invited the grocers to testify. But Weston, Medline and Metro's Eric La Flèche didn't show, sending lieutenants instead. Alistair MacGregor, the sole New Democratic member of the committee, wasn't satisfied. He grilled the representatives about why their bosses didn't show up, and asked the clerk to resend invitations that made it clear the committee was expecting the CEO or president. After that didn't work, the committee voted unanimously last month to summon the chief executives — much more serious than a simple invitation, in the language of parliamentary practice and procedure, because disobeying a summons could result in the Sergeant-at-Arms of the House of Commons hauling the witness before the House.
Article content
That is what finally brought the grocers to Ottawa. But at the hearing, Medline and La Flèche complained that their American competitors — Walmart Inc. and Costco Wholesale Corp. — hadn't also been dragged before the committee.
The committee responded by voting unanimously to call the Canadian heads of Walmart and Costco to testify.
Gross margins
For weeks, the committee's study on inflation and corporate profits has centred on the companies' gross margins. The metric, which measures the amount of revenue left over after subtracting the cost of sales, is seen as the best test of whether a grocery chain is taking advantage of inflation to jack up prices more than necessary.
Loblaw and Metro say improvements to their gross margin have come from their pharmacy divisions. (Metro owns the Quebec pharmacy chain Jean Coutu and Loblaw owns Shoppers Drug Mart.) But the chains' public financial reports don't separate food retail from pharmacy, and Metro and Loblaw have declined to provide extra information.
Article content
The Competition Bureau, however, may be able to get to the bottom of this. The federal regulator is conducting a study of food inflation, looking to make recommendations on how the government could inject more competition into the sector. But at an appearance in front of the agriculture committee this week, Anthony Durocher, the bureau's deputy commissioner for competition promotion, suggested he hadn't been able to get the extra financial data around gross margins because federal law doesn't allow the bureau to compel businesses to hand over information when it is conducting studies.
"The financial statements are quite impenetrable," Bloc Quebecois MP Yves Perron said during a hearing on March 6. "They tell us that, for example, they've made more profit in the pharmacy side but not so much in the food side, and we have no way of actually verifying. So if there's one recommendation you would have in order to improve that situation what would it be?"
Article content
"We would need more powers in order to go get that information, because otherwise we are quite limited," Durocher said through a translator.
Loblaw chief legal Nick Henn confirmed March 8 that Loblaw had provided extra details on its gross margins in food to the bureau following Durocher's appearance.
Loblaw's senior vice-president of retail finance, Jodat Hussain, told the committee in December that gross margins in the food segment had been "flat" since inflation started ramping up.
That alone is telling.
Imperfect competition
David Soberman, a professor at the University of Toronto's Rotman School of Management, said keeping margins steady in the middle of an inflation crisis is a luxury only businesses in heavily consolidated sectors get to enjoy. The three big Canadian grocers, along with Walmart and Costco, control about 80 per cent of the grocery market in Canada.
Article content
"These companies don't compete to the degree they should, which is why we pay higher prices," he said. "If you have a competitor that says, well you know, you have a four per cent markup, I'm going to show you that I can do well with a three per cent markup.' Then someone else is at two-and-a-half per cent markup. With those adjustments, the theory would be that the profits of supermarkets should go up in lockstep with inflation as opposed to faster than inflation."
Partha Mohanram, a professor who specializes in financial statement analysis at the University of Toronto, said keeping margins flat could actually amplify inflation. For example, if a grocer buys milk from a processor at $4 per litre, and maintains a 25 per cent markup, it would be charging customers $5 for that milk. But if the processor ups the cost of milk to $5 per litre, and the grocer still maintains a 25 per cent markup, then the price on the shelf goes up to $6.25, Mohanram said. If the grocer merely passed on the extra $1 in cost from the supplier, that milk would be $6.
Article content
We are actively losing money on core commodities

Galen Weston, president, Loblaw
In their latest quarterly updates, Loblaw and Metro both reported a drop in gross margins, amid cost pressure from suppliers and increased markdowns on food. Empire reports third-quarter earnings on March 16.
Metro said in January that its gross margin dropped 30 basis points in its first quarter, to 19.6 per cent. At Loblaw, gross profit margin dipped by 30 basis points in the fourth quarter to 30.6 per cent, according to an update on Feb. 23. The company's profits still managed to beat expectations with adjusted earnings growth of more than 11 per cent.
Gross profit margin in 2022 was up 20 basis points to 30.9 per cent, from 30.7 per cent in 2021.
Loblaw said the margin drop in the fourth quarter was mostly because of the price freeze and its "increased commitment" to promotional markdowns on products.
Article content
Maple Leaf CEO says grocery code of conduct won't impact food prices

Why premium chicken is so expensive in Canada

Canada could have a grocery code of conduct by the end of 2023
"We are actively losing money on core commodities," Weston told the committee on March 8. "Milk, vegetable oil, butter, certain cheeses."
At the end, Weston milled around talking to politicians, then went out and faced questions from reporters. It was somewhat surreal seeing him there, this billionaire grocery pitchman from the TV commercials. Everything felt out of context, like a cartoon character showing up in a live action film. But he wasn't a cartoon and the longer you watched him the more you realized it, the more you noticed those little things that come with being a three-dimensional person, like a patch on the back of his sock worn bare enough you could just see through to the skin.
• Email: jedmiston@postmedia.com | Twitter: jakeedmiston
https://financialpost.com/news/retail-marketing/grocery-ceo-testify-ottawa Grocery CEOs grilled by MPs over food price inflation in Ottawa