Golden eagle Scotland: Number of birds rises to the highest level in 300 years
Project managers running a translocation scheme have found eight more chicks have been successfully moved from other parts of the country to an undisclosed location in southern Scotland this summer in a bid to boost previously low numbers.
This means the total number of golden eagles in the south has reached about 46 – the highest number recorded in the region in three centuries and more than four times previous counts.
Before the golden eagle project began in southern Scotland, it was believed that there were only between two and four pairs of golden eagles in Dumfries and Galloway and the Scottish Borders.
Project managers have also found that two birds – Edward and Iona – moved to the area three years apart and are now mating in a confidential location near the town of Moffat.
---
READ MORE: Strictly Come Dancing favorite Hamza Yassin's Highland love
---
The city, which was named Scotland's first Eagle Town in 2021, is hosting the UK's only Eagle Festival from 22-24 September this year.
Now in its third year, the Moffat Eagle Festival aims to help secure support for the project's ongoing conservation efforts and demonstrate its success in reintroducing golden eagles into the southern skies.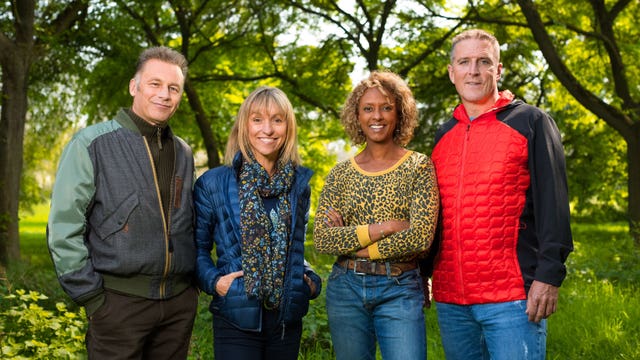 Naturalist and BBC Springwatch presenter Iolo Williams, who will be the festival's keynote speaker this year, said: "The work of this outstanding project plays a crucial role in supporting the small golden eagle population in the south of the country."
"It's great to think there's an even greater chance of seeing this iconic predator so important to maintaining a healthy ecosystem soaring in the southern skies.
"I can't wait to attend the Moffat Eagle Festival in September and hopefully be able to leisurely spot some of the golden eagles when I'm there."
Cat Barlow, Project Manager for the Southern Scotland Golden Eagle Project, added: "We are delighted to be bringing eight more chicks to the region – the largest number we have transported in one summer to date, and increasing the population of golden eagles to the region bring." range to an all-new record high.
"And we're incredibly excited to see some of the first birds we've translocated in the area now nesting together.
"This is a significant new step in our work to ensure the golden eagle population of southern Scotland is self-sustaining and thriving in the southern skies for many generations to come."
Pip Tabor, manager of the Southern Uplands Partnership, the project's host charity, said: "As a top predator, this majestic bird of prey is fundamental to the protection of our local ecosystem.
"Before our project began only three pairs were nesting in southern Scotland. We have now more than quadrupled the population and although all appear to have settled in the south of Scotland some of our birds have even traveled south to the Forest of Bowland and Nidderdale where the species has been extinct for a number of years."
---
READ MORE: White-tailed eagle, watched by millions, flies to Mull for Christmas
---
Francesca Osowska, Managing Director of NatureScot and a passionate supporter of the project, added: "The main objective of this exciting project is to increase the number of breeding pairs in southern Scotland, an important part of our work to reverse and combat biodiversity loss." climate emergency.
"With wildlife declining around the world, it's fantastic to hear that the project has again relocated so many eaglets this year and is seeing such positive signs of potential breeding behavior."
Earlier this year, staff from the Scottish Raptor Study Group in the Scottish Highlands, Scottish Islands, Angus and Perthshire painstakingly collected chicks from a range of support areas under license from NatureScot before taking them to the release site at a confidential location in the Moffat Hills brought.
The birds were then cared for in specially designed release aviaries and provided with additional food in order to acclimate them to their new habitat before they were released this summer.
Experts from the University of Edinburgh's Royal (Dick) School of Veterinary Studies also provided support to monitor the health and welfare of the birds throughout the process.