Georgia MP faces animal cruelty charges in connection with the deaths of 3 dogs
A Georgia sheriff's deputy has been indicted by a grand jury on animal cruelty charges after allegedly causing the deaths of three dogs in his care.
Rockdale County Sheriff's Office Deputy Eric Tolbert has been charged with three counts of aggravated animal cruelty and two counts of animal cruelty.
His three American bulldogs — Lala, Luke and Storm — all died in a shed on his property after he abandoned them in the 95-degree heat, the prosecutor said, according to FOX 5 Atlanta.
GEORGIA ROBBER SUSPECT WEARING PANTIES ON HIS FACE SUPPRESSED BY THREE ARMED CUSTOMERS: REPORTS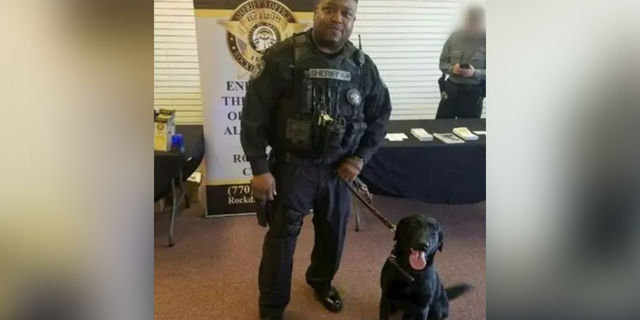 And a police dog named Aegis who was placed in his care was neglected and found locked in a hot, dirty pen filled with mold-covered feces.
PETA, which had been actively trying to bring Tolbert to justice, welcomed the charges against the MP. The organization had appealed and staged protests against Tolbert.
"Nothing can bring these dogs back or redeem their suffering, but these charges send the message that there are consequences for anyone who causes the agonizing deaths of dogs, including those tasked with enforcing the law," said Daphna Nachminovitch, PETA's senior vice president issued a statement.
A GEORGIA MAN ALLEGEDLY SHODED PARENTS AND KILLED FATHER AT FAMILY HOME
CLICK HERE TO GET THE FOX NEWS APP
"PETA is demanding that Deputy Eric Tolbert be banned from owning animals for life, lest another dog die as slowly and painfully in his stuffy pen as LaLa, Luke Cage and Storm did," continued Nachminovitch.
https://www.foxnews.com/us/georgia-deputy-indicted-animal-cruelty-connection-deaths-3-dogs Georgia MP faces animal cruelty charges in connection with the deaths of 3 dogs