France is preparing for a 5th day of nationwide protests against pension reform
A fifth day of nationwide strikes and protests in France on Thursday tested the government's resolve on a controversial pension reform, the flagship of President Emmanuel Macron's second term.
This latest in a series of protests that began last month is expected to be less disruptive than previous occasions as the Paris Metro and most long-distance trains are operating normally and most schools are unaffected. This time fewer people were expected during the school holidays and as unions look to March 7th when an ongoing general strike has been called.
However, a rail workers' strike will disrupt TGV high-speed trains and regional services. Nearly a third of flights have been canceled at Paris' second largest airport, Orly, and traffic is also being halted at regional airports.
IRA BALANCES DOWN NEARLY 25% WITHIN MARKET VOLATILITY: HOW TO PROTECT YOUR RETIREMENT SAVINGS
"These reforms are depriving people of their rights. I am here today to show (President) Macron that he cannot be deaf and that there are consequences for trying to defy the majority of the country," said Pierre-Yves Toudic, a 34-year-old engineer, protesting in the Bastille Plaza in central Paris.
Proposed pension reforms – aimed at raising the minimum retirement age from 62 to 64 – have sparked the most tumultuous debate in the National Assembly in years, with uncertainty looming over the ultimate outcome.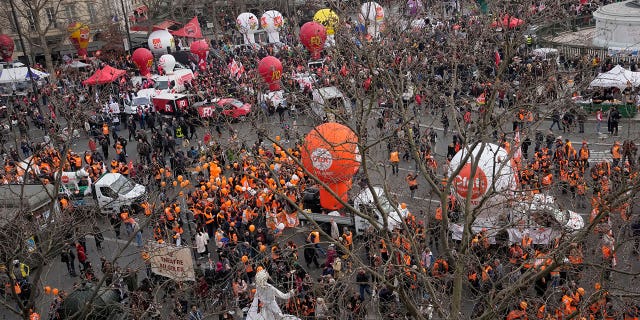 Opponents tabled thousands of amendments to delay debate, and are now making it uncertain whether the House of Commons can actually debate the famous Article 7, which changes the retirement age, before a key deadline on Friday. The pension bill – whether fully debated or not – is then automatically submitted to the Senate, the upper house, for consideration.
Lawmakers debated amendments to Article 2 of 20 articles in the bill on Thursday afternoon. The legislative process is expected to be completed in a few weeks.
CLICK HERE TO GET THE FOX NEWS APP
Despite opinion polls consistently showing growing opposition to reform and his own popularity dwindling, Macron insists he is delivering on a key campaign promise he made when he came to power in 2017 and ahead of his re-election in April 2022.
The powerful far-left CGT union is also eyeing March 7, when unions threaten to bring France to its knees. CGT chief Philippe Martinez said the strategy is to "keep up the pressure on lawmakers" to reject the bill. The union this week called for help from rubbish collectors who could see rubbish piling up on French streets.
https://www.foxnews.com/world/france-braces-5th-day-nationwide-protests-pension-reform France is preparing for a 5th day of nationwide protests against pension reform