Florida police suspect street racers responsible for destroying a woman's car
Two suspected street racers crashed into a Florida home, leaving a trail of destruction and shocking the homeowner, who was taking a midday shower.
Orlando homeowner Neshay Singleton says she was just getting into the shower when the cars pulled into her bedroom. Two street racers crashed through her bedroom window, narrowly missing the woman who was taking a short break during her work day.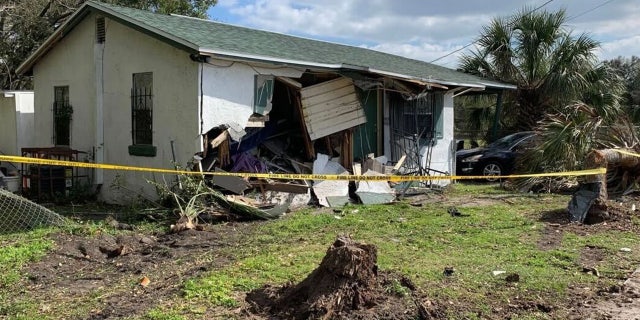 "The next thing I know, I hit the ground. I crawled out to get my car keys to unlock my back door because I saw fire and I just jumped out the back window," Singleton told Fox 35.
While Singleton sustained no injuries from the sudden impact, her home was severely damaged by the two vehicles that crashed into her home.
Pictures after the accident showed the devastating toll the suspected street racers took on Singleton's home. A palm tree fell on one of the crashed cars and debris littered the woman's front yard.
FLORIDA BILL proposes sending migrants to sanctuary cities
"The boy actually collapsed over here," Singleton said, pointing to an area in their front yard. "He tried to talk to me and tell me something but he broke down and they took him to the ambulance and when I came out there were three or four boys around."
After the incident, the two vehicles were towed alongside Singleton's car, which was also badly damaged in the accident.
"My windshields are broken." singleton explained. "And the back of my car is completely smashed."
The Orlando Police Department has not released any information about the suspects. Footage and images from outside Singleton's home showed skid marks left by the suspected street racers, leading law enforcement to believe the drivers were involved in illegal street racing.
"It appears the accident was caused by two of the vehicles that were racing, but the investigation is ongoing," police told FOX 35.
Singleton has lived in her home since 2016 and shared that she will be relying on friends and family as she now has neither a house nor a car following the accident.
CLICK HERE TO GET THE FOX NEWS APP
After the incident, police cordoned off a portion of Ivey Lane in Orlando and began a cleanup.
https://www.foxnews.com/us/florida-police-suspect-street-racers-responsible-destroying-womans-home-car Florida police suspect street racers responsible for destroying a woman's car