Eli Manning urges Giants' Daniel Jones on long-term deal: 'Hope he gets rewarded'
Legendary Giants quarterback Eli Manning spent some time watching Daniel Jones guide his former team this season, and apparently he liked what he saw.
Jones had the best season of his four-year NFL career under freshman head coach Brian Daboll, leading Manning to encourage the franchise to sign the 25-year-old for a long-term contract extension.
"I was proud of Daniel the way he played, that he learned another offense and picked it up," Manning told ESPN on Tuesday.
CLICK HERE FOR MORE SPORTS COVERAGE ON FOXNEWS.COM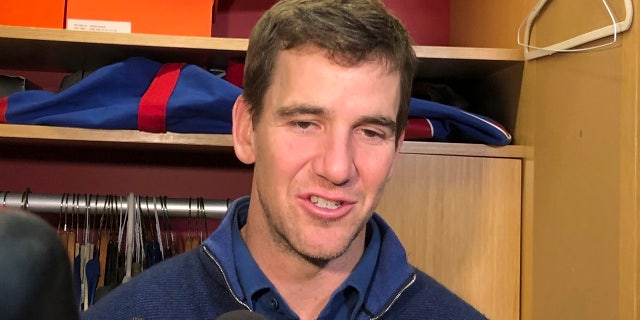 The Giants finished that season with a 9-6-1 record and Manning credited Jones with leading the team to victories late in the games.
"Like the way he played in the fourth quarter of a few games and led the team back to victory which was great; that's what you want from your quarterback. Competing as fast as they could with brand new offense, making it to the playoffs, winning a playoff game, that's great.
"I hope he gets rewarded for that. I hope he's the Giants quarterback for a long time."
NFL LEGEND MICHAEL STRAHAN GETS FINAL WORD IN 49ERS GREAT FEUD WITH GIANTS ROOKIE: 'LET MY BOYS LIVE'
The Giants have expressed an interest in keeping Jones, but it's unclear if the team will choose to use the franchise tag or negotiate a multi-year contract extension.
"We're excited to have Daniel here," general manager Joe Schoen said last week. "Hopefully we can achieve something with his representatives. That would be the goal, to build a team around him that he could lead us to winning a Super Bowl with."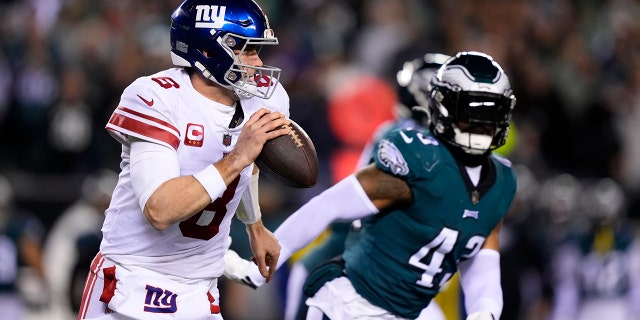 Earlier this week, teams learned that next season's salary cap will be set at a record $224.8 million. A contract extension for Jones would certainly have an impact on the Giants' salary cap.
The franchise also has to make a decision about star running back Saquon Barkley, who will be a free agent this offseason.
EMPIRE STATE BUILDING LIGHTS GREEN TO SUPPORT EAGLE AND CREATE FIRESTORM: "YOU ARE DEAD TO ME"
Jones has also publicly expressed an interest in staying in New York.
"I've really enjoyed my time here and I want to be here," he said last week. "I think there's a business side to everything and a lot of that I can't control. I have love and respect for this organization and this property and the guys in this dressing room.
"So I'd like to be here. I've really enjoyed being here and we'll see how it all develops."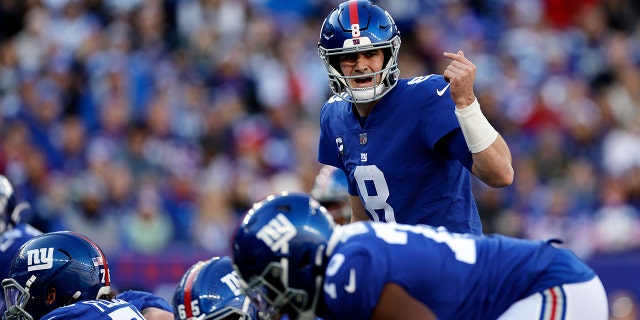 Manning was on hand during the Giants' divisional round blowout loss to the Eagles at Lincoln Financial Field.
But the playoff loss didn't seem to shake Manning's or the team's faith in Jones. But Manning admitted it will be difficult for him to gain a foothold for Philadelphia in next week's Super Bowl.
CLICK HERE TO GET THE FOX NEWS APP
"It's tough. It's tough in the sense that I usually fire for the NFC in most Super Bowls that we're not in. It's hard to fire for the Eagles," Manning said. "There's so much hate over the years. No hate, just the rivalry going against them."
https://www.foxnews.com/sports/eli-manning-pushes-giants-daniel-jones-land-long-term-contract-hope-gets-rewarded Eli Manning urges Giants' Daniel Jones on long-term deal: 'Hope he gets rewarded'