Sports
Champions League draw LIVE: Liverpool, Chelsea and Man City learn the fate today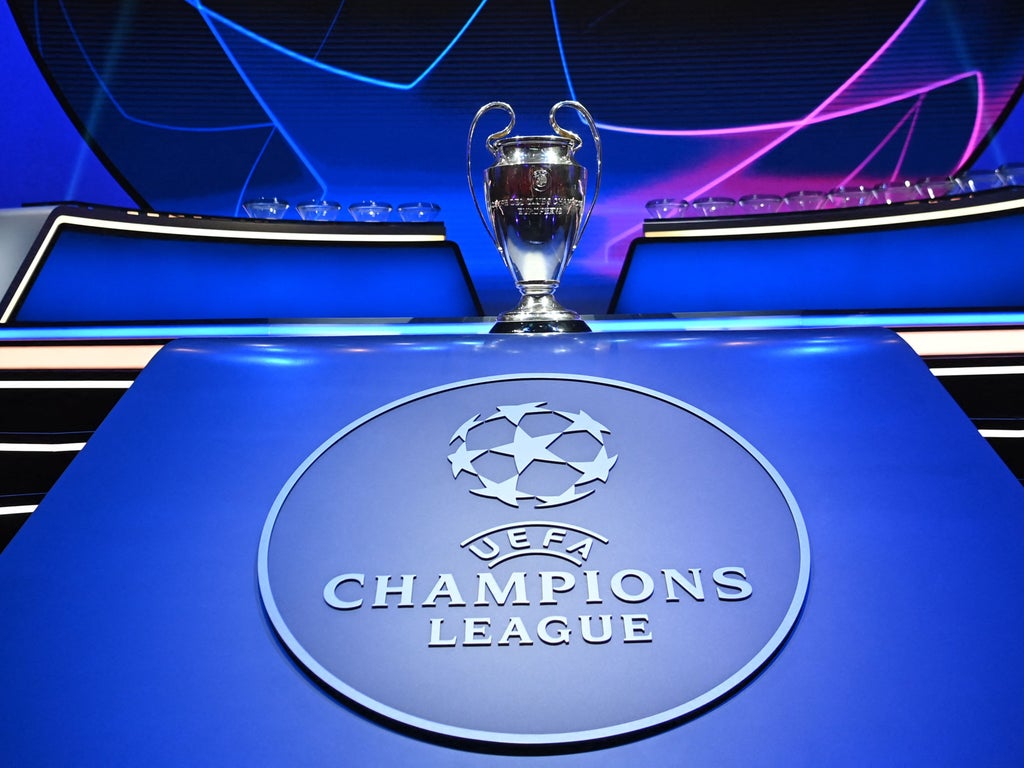 Foden about life in City and the master league
Watch the Champions League quarter-final draw live with a Premier League contingent reduced to three when European champions Chelsea join Liverpool and Man City, who were beaten by the Blues in Porto in the final last year.
Jurgen Klopp's side got past Inter Milan despite losing the second leg at Anfield thanks to a stunner from Lautaro Martinez, while Pep Guardiola's Premier League champions had far too much for Sporting, with Thomas Tuchel leaving Chelsea amid problems off the field Lille was overtaken by the club's pending takeover following British government sanctions against Roman Abramovich.
Not only will the trio discover their opponents from the last eight, the semi-final draw will also pave the way to the final in Paris.
The draw in Nyon, Switzerland takes place at 11:00 GMT. You can follow the live build-up and latest updates of both the quarter-final and semi-final draws below:
1647598674
Road to quarter-finals: Villarreal
Where do I start with Villarreal? The 2021 Europa League champions were drawn into a group with Manchester United – who they beat to lift that trophy. They lost twice to the Red Devils in the group stage, meaning they had to beat Atalanta on matchday six to secure a place in the knockout rounds. Three goals before half-time looked like going through, but the Italians responded with two of their own in the second half, leaving Villarreal with a tricky 10-minute period.
They then meet Juventus in the Round of 16 and drew 1-1 at home. Perhaps the shock of the round came in the second leg when they swept aside Juve 3-0 in Turin, all goals coming in the last 12 minutes. Can they continue that run and bolster their Europa League success by lifting the Champions League trophy?
Michael JonesMarch 18, 2022 10:17 am
1647598278
Road to quarter-finals: Real Madrid
Real Madrid have had a tumultuous season so far. They opened away with an unconvincing 1-0 win over Inter Milan before being beaten 2-1 by Champions League newcomers Sheriff Tiraspol on Matchday 2 at the Bernabeu. However, that was their only blemish in the group stage and they led Group D with five wins out of six.
Their round of 16 clash against Paris Saint-Germain was arguably the toughest of any quarter-finalists, and it looked that way after Kylian Mbappe won the first leg for PSG with a 94th-minute goal. He doubled their overall lead with the opening goal in the second leg before Karim Benzema used a shocking PSG defense to score a hat-trick in the 17th minute and send the 13-time champions through to the next round.
Michael JonesMarch 18, 2022 10:11 am
1647597860
Road to quarter-finals: Manchester City
Man City, one of the favorites to win the title this year, did not get off to the best start after a stunning 6-3 win over RB Leipzig and a 2-0 home loss to PSG. However, they responded well, winning the next three group games, scoring 11 goals and conceding just three to take the lead in the group. Yet another away defeat on the final day – this time against Leipzig – didn't prevent them from leading Group A.
Pep Guardiola's men then beat Sporting Lisbon 5-0 in the first leg of their round of 16 to effectively advance to the next game after 90 minutes. The second game was a lukewarm affair, with City keeping a clean sheet in a goalless draw.
Michael JonesMarch 18, 2022 10:04 am
1647597530
Road to quarter-finals: Liverpool
Liverpool had a perfect run into the knockout rounds and became the first English club to win all six group stage matches in the Champions League. It was an even more impressive performance as the Reds were drawn into the so-called 'group of deaths' which included La Liga champions Atletico Madrid, AC Milan and Porto.
Jürgen Klopp's side returned to Italy for the first leg of the round of 16 against Inter Milan and met tough opponents. Roberto Firmino and Mo Salah both scored in the final 15 minutes of the game – in two crucial goals – sending Liverpool back to Anfield with advantage. An unusually poor performance followed, which Inter Milan almost took advantage of. They scored just after the hour mark but Alexis Sanchez's red card just minutes later meant they couldn't push for a saving equalizer and Liverpool ended the game.
Michael JonesMarch 18, 2022 9:58 am
1647597173
Road to quarter-finals: Chelsea
In what was – by his standards – a modest group stage, the reigning European champions finished second in Group H behind Juventus. They lost 1-0 to the Italians in the second week of matches before bouncing back with victories over Malmö and Zenit St. Petersburg. Chelsea's improvement was cemented with a 4-0 win over Juve at Stamford Bridge but they failed to win the group after drawing 3-3 at Zenit on Matchday 6.
Thomas Tuchel's team met French club Lille in the round of 16, put in a commanding performance at home and went into the second leg with a two-goal lead. They would have been nervous when Lille opened the scoring in that game but their class shone with goals from Christian Pulisic and Cesar Azpilicueta completing a 4-1 aggregate win.
Michael JonesMarch 18, 2022 9:52 am
1647596883
Road to quarter-finals: Benfica
Benfica shocked everyone in the group stage by finishing against Barcelona in Group E. They lost twice to Bayern Munich in the group but remained unbeaten against Barca (one win, one draw) and Dynamo Kyiv (one win, one draw), ensuring they got the upper hand over the Spanish giants by a point and a place in the knockout rounds.
They met Ajax in the round of 16 and in a stunning first leg, the Dutch took the lead twice before Roman Yaremchuk equalized in the 72nd minute. Darwin Nunez traveled to the Netherlands for the second leg and scored the only goal of the game as Benfica secured a 3-2 aggregate win and advanced to the last eight.
Michael JonesMarch 18, 2022 9:48 am
1647596532
Way to quarterfinals: Bayern Munich
It has been an almost flawless season so far for Bundesliga champions Bayern Munich.
They have scored seven wins out of eight – excluding a 1-1 draw against Salzburg in the first leg of the round of 16 – scored 30 goals and conceded just five goals in the Champions League this season.
They are among the favorites for the Paris Cup and a good quarter-final draw could determine the success of Julian Nagelsmann's debut season at the top.
Michael JonesMarch 18, 2022 9:42 am
1647596252
Road to quarter-finals: Atlético Madrid
Atletico Madrid have made it the hard way in the Champions League this season. Diego Simeone's side made it through the group stage with a 3-1 win over Porto on the last day of the game, surpassing their rivals and sending them through to the knockout rounds.
In the round of 16 against Manchester United, however, they were more composed and confident. A late equalizer from Anthony Elanga in the first leg failed to dampen Atleti's spirits and they came to Old Trafford with a classic game plan, winning 1-0 (2-1 agg) and could find form at just the right time.
Michael JonesMarch 18, 2022 9:37 am
1647595551
Who stays in the draw?
The eight winners of the Champions League round of 16 remain in the draw, with three teams from England, three from Spain, one from Germany and one from Portugal. You are:
Michael JonesMarch 18, 2022 9:25 am
1647595251
How can I watch?
The draw for the remainder of the 2021/22 Champions League takes place at Uefa HQ, the home of European football, in Nyon on Friday 18 March starting at 11:00 GMT and uefa.com will broadcast a live Provide stream of procedure Switzerland.
Michael JonesMarch 18, 2022 9:20 am
https://www.independent.co.uk/sport/football/champions-league-draw-live-liverpool-chelsea-man-city-b2038505.html Champions League draw LIVE: Liverpool, Chelsea and Man City learn the fate today