News
Burger King is accused of false advertising in a lawsuit that Whoppers are too small
It's not the kind of whopper that Burger King wants to be associated with.
A South Florida attorney has filed a federal lawsuit seeking class-action status alleging that Burger King deceived customers by depicting its food as much larger than what it served customers in real life.
The lawsuit, filed by attorney Anthony Russo, alleges that Burger King began inflating the size of its burgers in pictures around September 2017. Before that, according to the lawsuit, Burger King had advertised its food "more fairly".
Today, the size of virtually every food item advertised by Burger King is "materially overstated," the lawsuit states. Russo and the plaintiffs he represents single out advertisements for Burger King's Whopper brand, saying the entire burger is 35 percent larger than the real version, with twice the meat of what's actually served.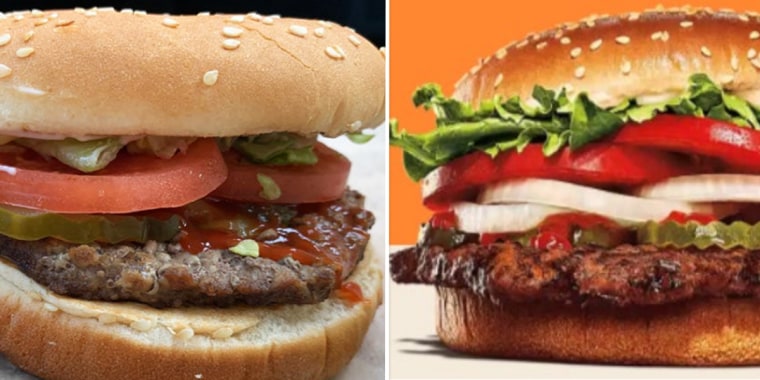 The lawsuit names several YouTube users who specialize in food reviews and Twitter users who have complained about their orders as witnesses.
It's not the first time Burger King has been accused of food bloat in its ads. The UK Advertising Authority cited the company 12 years ago for burgers that were "significantly less" in height and thickness than advertised.
The lawsuit, which is seeking class-action status, is seeking monetary damages and a court order ordering Burger King to end its fraudulent practices.
Representatives from Burger King and its parent company, Restaurant Brands International, did not immediately respond to an emailed request for comment.
Jonathan Maze, editor-in-chief of Restaurant Business magazine, said that while lawsuits against fast-food companies like Russo's may appear seemingly unfounded, they can sometimes make company executives pay severance payments "if they fear bad publicity."
In 2020, a California judge authorized a $6.5 million class-action settlement against Chipotle over an allegedly misleading non-GMO advertising campaign.
"Big or small, justice is justice, and laws are laws," Russo said, "and just because something seems minor in someone's mind doesn't mean it is."
He said he's looking for more transparency in industry advertising more broadly.
"When I advertise a vehicle, it's not photoshopped to improve it," he said. "Sure, maybe you're shooting it in the best light, but you're certainly not making it misleading. That's really the basis for these kinds of lawsuits."
https://www.nbcnews.com/business/consumer/burger-king-false-advertising-lawsuit-whopper-burgers-rcna22916 Burger King is accused of false advertising in a lawsuit that Whoppers are too small