Brexit: BBC poll found one in five Brexit voters would vote differently
The audience was asked whether Brexit was the right thing to do. The results showed that 70% still agreed, 20% would disagree and 10% were unsure.
The poll was conducted as part of a special episode of the show, in which the audience consisted entirely of Leave voters.
The picture was taken in Clacton-on-Sea, Essex, on the eve of the seventh anniversary of the EU referendum on 23 June.
The Tendring region of Essex – which includes Clacton – had one of the highest Brexit votes in England in the 2016 referendum, with almost 70% of the people voting for Brexit.
One viewer, who admitted he would vote differently now, said: "I see no benefit from it all," while another blamed politicians' efforts to "frustrate" the process, saying: "We've got that." Brexit hasn't started yet." But when will it start?"
---
READ MORE: Kate Forbes 'Tories think Scots are stupid with dog's dinner Brexit'
---
Questions discussed during the show included the impact of Brexit on the cost of living, the pros and cons of Brexit, the impact of Brexit on immigration and what the Conservatives and Labor Party should offer as a Brexit strategy for the next election .
Conservative MP John Redwood said the cost of living had "nothing at all" to do with Brexit and said a drop in inflation "should come pretty soon".
He added that it was a "horrible mistake" by western banks, including the Bank of England, to cut interest rates, saying "they caused the money and credit explosion."
Former Press Secretary No10 Alastair Campbell received a round of applause from the audience for his opening comments, in which he said the British public had been "lied to" and called for Boris Johnson to be held accountable.
He said: "You were lied to. You were told it would be pain free. They were told that everything would have advantages and no disadvantages.
"We all pay a higher price for our livelihood and everything else because of the lies we've been told."
Labor Cabinet Shadow Minister Baroness Jenny Chapman criticized the government's handling of Brexit, but added: "We can bring the 'big ones' back to the UK."
She said: "What can't be this kind of mess is a government that's more concerned about their friends' nobility and partying during lockdown."
"They spend a lot more time on these things than closing the deal."
However, businessman and Reform UK member Ben Habib said: "The reason we didn't see the Brexit dividends we should have seen is because we didn't do Brexit the right way."
He blamed a lack of deregulation, stating, "We're closely tied to the EU and that's why we don't have dividends because we can't deregulate, we can't lower taxes and we can't invest more money in yours." bags."
On the subject of borders, he received a lot of applause for his comments on Britain's reliance on immigrants.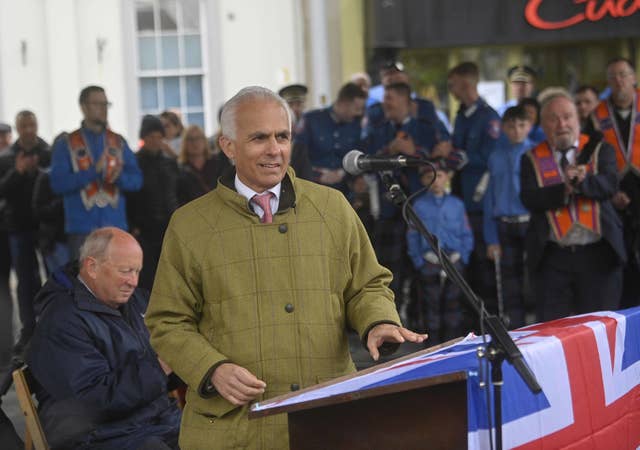 He said: "The reason we have rampant, uncontrolled legal migration is because the government is not willing to think about how we can educate our own native population.
"One of my biggest issues with this government is that if you're a low-skilled worker in the UK, it's no longer worth working for."
---
READ MORE: Scotland 'loses £3bn in public revenue a year' after Brexit
---
Referring to the Labor Party's Brexit policy at the next election, Baroness Chapman ruled out EU re-entry and lifted the UK-EU veterinary agreement, the European Horizon research and innovation programme, qualifications and cutting red tape emerge as key areas for a potential Labor Party government to focus on.
Mr Habib, on the other hand, called on the current government to withdraw from the agreement with Northern Ireland.
He said: "The Windsor framework must be abandoned.
"What we have now is a border in the middle of the UK – that's an abomination to me."