Ben Wallace 'considering leaving government in autumn'
The Times reported that Mr Wallace, who played a key role in responding to the Russian invasion of Ukraine and was a close ally of Boris Johnson, is considering retiring from politics altogether.
He continues to support Rishi Sunak and the government and the departure is not related to the current challenges facing the Conservative Party, the newspaper reported.
The Herald understands Mr Wallace, a former MSP for north-east Scotland, is yet to make a decision.
Mr Wallace had expressed his interest in running for the post of NATO Secretary General before it was announced that current boss Jens Stoltenberg had been given another year in office.
He told The Economist there were "many unresolved problems" in the military alliance and "that's not going to happen". He later downplayed the prospect of a future bid to head the organization.
---
READ MORE: Ben Wallace set to replace Jens Stoltenberg at NATO
---
Last week, the Prime Minister dismissed comments by Mr Wallace suggesting that Ukraine should show "gratitude" for the military support it has received.
Mr Wallace made the remark after the country's President Volodymyr Zelenskyy called it "absurd" that NATO had insisted his country still had to meet conditions before it could become a member after the war with Russia.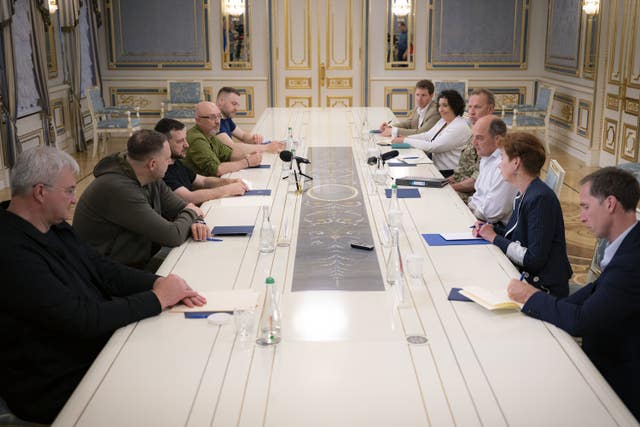 Mr Zelenskyj later said: "I think we have always been grateful to the UK.
"I don't know what he meant or how else we should be grateful."
Mr Wallace is popular with the Tory party and is the longest serving minister in government. He was Security Secretary under Theresa May before being promoted to Defense Secretary by Mr Johnson and continuing in that role under his two successors.
---
READ MORE: Rishi Sunak – Recommended wage increases 'short-sighted'
---
He had previously been appointed Whip in 2014 and Junior Minister in the Northern Ireland Office in 2015 while David Cameron was Prime Minister.
The Wyre and Preston North MP dropped out of the Conservative leadership race last year despite being an early leader in the race to succeed Mr Johnson.