Ben Affleck's Dunkin' Super Bowl Ad Sends Social Media Frenzy: 'Greatest Thing Ever Filmed'
Ben Affleck's Super Bowl commercial for Dunkin' Donuts caused a stir on social media Sunday night as fans declared him the winner early in the game between the Kansas City Chiefs and the Philadelphia Eagles.
The commercial, which aired during the first break, features Affleck working in the drive-thru of a Massachusetts Dunkin' Donuts, where he delivers orders to unsuspecting customers. His wife, Jennifer Lopez, also shows up and drives to the pickup window before asking her Oscar-winning husband, "What are you doing?
Affleck's affinity for Dunkin' is well documented and has become a popular meme in recent months. The actor is frequently photographed outside with Dunkin coffee and paper bags from the joint, which is why fans couldn't contain their excitement after he and the brand made their partnership official.
BLAKE LIVELY JOKINGLY DOES SUPER BOWL COMMERCIAL IN NEW BETTY BUZZ COMMERCIAL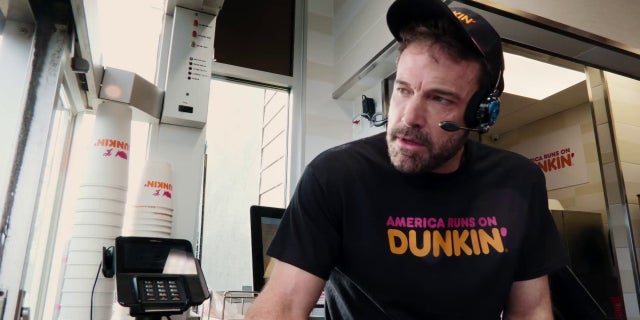 "I scream and cry into my dunks," Politico reporter Lisa Kashinsky tweeted.
"Ben Affleck's Dunkin Donuts commercial just won the Super Bowl. IYKYK. I screamed," wrote Stephanie Lulay, editor-in-chief and co-founder of Block Club Chicago.
"Ben Affleck has never looked happier, the guy was in his element," tweeted Lauren Comitor of The Atlethic MLB.
National Journal editor-in-chief Kirk A. Bado called it the "triumphant return of Ben Affleck" after he was the subject of a viral meme last week for looking disinterested during the Grammy Awards.
"The donuts that Ben Affleck has been cracking open are already worth more than the cryptos that Matt Damon has been selling," said Dave Itzkoff, culture reporter for The New York Times.
"Ben Affleck and Jennifer Lopez Dunkin' Donuts commercial > Bradley Cooper and mother T-Mobile commercial," wrote Fox & Friends co-host Will Cain.
"The Ben Affleck Dunkin' Donuts commercial is the best thing ever made!!!!!!" agreed Canadian actor Devon Sawa.
"Today the phoenix rose from Ben Affleck's back," tweeted comedian Michelle Collins.
"Jennifer Lopez appearing in a minivan (!!) in husband Ben Affleck's @dunkindonuts #SuperBowl commercial is the best acting she's done this year," agreed film critic Courtney Howard.
CLICK HERE TO GET THE FOX NEWS APP
Affleck recently told PEOPLE that the role suited him because "people already think I work for Dunkin."
"It was such a big deal in Boston," he told the outlet. "I think I was kind of associated with it, and that sounded like a fun opportunity to play with that association and a chance to come back here to shoot it at home in Boston."
https://www.foxnews.com/media/ben-afflecks-dunkin-super-bowl-commercial-social-media-frenzy-greatest-thing-ever-filmed Ben Affleck's Dunkin' Super Bowl Ad Sends Social Media Frenzy: 'Greatest Thing Ever Filmed'