Applying the secret of Videotron's success to Freedom Mobile
Quebecor chief says timing is right for a disruptor to shake up Canada's wireless market
Get the latest from Barbara Shecter straight to your inbox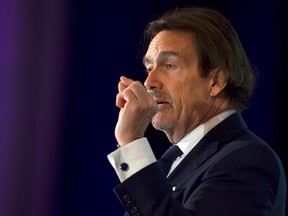 Article content
Ask Pierre Karl Péladeau if he feels a connection to U.S. wireless juggernaut T-Mobile, which over the past decade surged from bit player to become the second-largest carrier south of the border, and the CEO of Quebecor Inc. gets animated.
Article content
Péladeau may not be planning to trade his classic suits for the pink T-shirts that have become the unofficial uniform for executives at the U.S. disruptor, but he clearly sees something of a kindred corporate spirit as he sets out to shake up the Canadian market with newly acquired Freedom Mobile.
Article content
"I see where we have something in common … in terms of innovation. And in terms of being aggressive," Péladeau said in an interview this week.
"T-Mobile is a company known for introducing innovative concepts … things that the incumbents AT&T and Verizon were not. I'm not gonna say (they're an) inspiration because I think that we've been as inspiring as they were." 
Wireless disruptor
As evidence, Péladeau points to Fizz, the wireless brand his company launched in 2018. The fully digital service undercut rivals on price and let customers choose the hardware and services they wanted, much as T-Mobile did under CEO John Legere as it swallowed rival Sprint in 2020 on the way to overtaking AT&T as the number two wireless provider in the U.S.
Article content
With Fizz in its lineup, Quebecor and subsidiary Vidéotron have grabbed more than 20 per cent of the wireless market in its home province, and Péladeau hopes to bring that momentum to Freedom, which topped out at around five per cent market share in British Columbia and Alberta and 10 per cent in Ontario.
"How we've been able to get them to succeed (is) pretty simple. We invested in customer service," said Péladeau, who has run Quebecor, the company founded by his father, for much of the past quarter century.
"We believe that we were (innovative). You go on the internet, you order what you want. I can sell you a phone, but if you have a phone (and) you don't want to buy a phone, you don't (have to)."
He took it with a measure of pride that the Competition Tribunal recognized the disruption Quebecor was bringing to the wireless landscape while rejecting Commissioner of Competition Matthew Boswell's attempt to block the $26-billion merger of Rogers Communications Inc. with rival Shaw Communications Inc.
Article content
Real player
Now, with the $2.85 billion purchase of Freedom Mobile, a prized wireless operation that was divested as a condition for government approval of the merger, Quebecor is a real player in the game rather than nipping around its edges.
The aggressive price competition that was a win for Quebecor in its home province is now mandated by the federal government as terms of the acquisition of Freedom through the company's subsidiary Vidéotron Ltd.
Freedom Mobile plans are required to be at least 20 per cent "more affordable" than equivalent plans offered by the incumbents for the next 10 years. Failing to provide such savings could subject Vidéotron to damages of up to $200 million.
Quebecor must also invest more than $150 million to upgrade Freedom Mobile's infrastructure to enable 90 per cent of its customers to access the 5G network within two years.
Article content
Péladeau said he is convinced Quebecor will be able to manage this and become a strong fourth wireless competitor in Canada — a dynamic the federal government has pushed for unsuccessfully to date — because a number of crucial "winning" conditions are either in place or close at hand.
Those includes a new telecom policy directive from the federal government that came into force this year, which directs the Canadian Radio-television and Telecommunications Commission to rely less on market forces in its decision-making than it did in the past.
Péladeau said he's pleased the CRTC is already mandating "seamless roaming" — which means regional wireless customers won't be cut off or noticeably disrupted when they travel outside their immediate region within Canada.
Article content
The regulator has also taken steps that will force incumbents to negotiate terms to give mobile virtual network operators access to their wireless networks.
Roaming fees 'abusive'
Furthermore, the regulator is committed to looking into Canada's high international roaming rates.
Péladeau called roaming fees in Canada "abusive," at about seven times higher than in European countries that mandate roaming prices and network access, and noted that there are more challengers and much greater competition in those markets.
Being a disruptor outside Quebec is something Péladeau has wanted for nearly 20 years, dating back to when his company was too heavily leveraged to make a bid for independent cellphone operator Fido, which fell into the Rogers fold in 2004.
Article content
Despite Freedom's limited market penetration under Shaw, Péladeau said there were hints of disruption and innovation under the previous owner that Quebecor can build on.
"They came in with the unlimited (service plans), which was never proposed previously by the incumbents," he said.
As for the view of some critics, including the Competition Bureau, that Quebecor won't be able to compete as well as Shaw did in Western Canada because it lacks the full package of services to sell as a "bundle," Péladeau noted that Freedom gained its largest wireless market share in Ontario, even though it didn't offer bundled services there.
"They were offering bundles, but only in Alberta and B.C.," Péladeau said. "They never offered a bundle in Ontario."
Article content
That said, Quebecor quietly acquired independent TV and internet provider VMedia in 2022, giving it additional services it could bundle with wireless in Ontario, Quebec, Alberta and British Columbia.
Cold shoulder
Péladeau had his sights set on wireless markets outside Quebec before he even got a seat at the bargaining table to acquire Freedom.
"I made an offer to Joe Natale (then CEO of Rogers) the first day the deal was announced because my feeling was that no one will accept Rogers buying the wireless operations of Shaw, but for whatever reason he never replied," Péladeau said.
Quebecor was again shut out in the spring of 2022 when it became clear the Competition Bureau wouldn't let the Rogers-Shaw merger across the finish line unless the wireless division was sold.
Article content
Péladeau suggested the cold shoulder may have resulted from bad blood between Quebecor and Rogers, which had tangled in court in 2021 over a snarled infrastructure-sharing arrangement. There was also distraction when a boardroom feud that same year led to Natale's ouster.
"I think things changed significantly because, I guess that it was not a fun time for (company chair) Edward (Rogers) and his family, you know, when they went through the feud with the previous CEO."
As for taking Rogers to court in 2021, with Quebecor claiming the company had breached terms of their arrangement, Péladeau said he'd been left with no choice.
"The previous CEO didn't respect the contractual arrangement we've had together. I don't like to do this, but we are protecting the interests of our shareholders and if the shareholders are being squeezed, I mean, it's my responsibility to do the proper things for them," he said.
Article content
Rogers CEO sees healthy competition as Shaw deal closes

Rogers' deal to buy Shaw closes two years after initial agreement

Does Ottawa finally have the right formula for a fourth wireless carrier?
Things are friendlier now, with Péladeau dropping by Rogers' offices during a trip to Toronto on Monday, a visit that included seeing former Quebecor and Vidéotron CEO Robert Dépatie who now works as chief operating officer of Rogers' home and business division. Péladeau said he is getting to know Natale's replacement Tony Staffieri, who was previously Rogers' chief financial officer.
The two companies have a long history of "very respectful" and "well-established" connections, Péladeau said, adding that he's optimistic they'll find a way to work together in the days and months ahead — Rogers is bound by commitments it made to give favourable terms and network access to Freedom Mobile — even as Quebecor unleashes aggressive competition with plans to take a bigger slice of Canada's wireless business.
"We compete but … I think that we will be able to entertain good relationships with them," Péladeau said.
• Email: bshecter@postmedia.com | Twitter: BatPost
https://financialpost.com/telecom/pierre-karl-peladeau-videotron-success-freedom-mobile Applying the secret of Videotron's success to Freedom Mobile